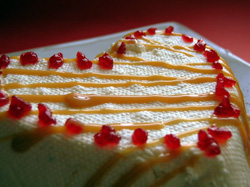 It's almost unseemly that so soon after the holidays I already find myself back in the midst of boxes of chocolate, imagining all the sweet treats I'd bake if only I had the time. But that is in fact the case.
I think it speaks to the nature of this month, and not just because Valentine's Day is smack in the middle of February. I think it has more to do with the cold, long nights … all those hours between dinner and bedtime. What better way to spend them than baking scores of delicacies in the imaginary kitchen in your mind?
When I imagine the sweets that I would like to bake, there's always one that makes a repeat appearance in my baking fantasies: coeur à la crème.
French in origin, coeur à la crème means "heart of cream." A classic dessert, it's components are simple and sublime. I'm not sure what it would have been made with when it was first created, perhaps fresh cheese, but most recipes today call for a mixture of cream cheese and either heavy cream or sour cream. Most recipes also feature the ever-important vanilla bean.
The dessert's signature is that it's traditionally made in a heart-shaped mold. The cream mixture is packed into a mold lined with cheesecloth, and then allowed to rest in a cold spot for many hours. Once unmolded, you're left with a beautiful, creamy dessert that is simplicity at its very best. It's usually accompanied by a berry sauce.
I've wanted to make coeur à la crème for so long, but I could never find the right mold. I know you can make it any container that has holes that will allow water to seep out, but I just wouldn't settle for anything less than a porcelain heart of my own!
The baking gods smiled down on me for a few months ago, I found the very mold I'd been looking for. When Meeta announced Monthly Mingle #7, I knew right away that my coeur à la crème dream would finally come true.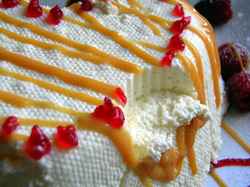 For the recipe, I turned to Ina Garten's Barefoot in Paris
. The preparation was a breeze. I mixed cream cheese, icing sugar, lemon zest, the seeds of a vanilla bean and heavy cream together until I had a thick mixture. I lined my mold with paper towel and then packed in the cream cheese mixture. I rested my little heart in the refrigerator overnight, where a bit of water from the cheese drained out.
The following day I unmolded my little cheese heart and avoided the overwhelming urge to dig right in. As an accompaniment, I decided to make my own dulce de leche by boiling a can of sweetened condensed milk for two hours. Once cool, the milk had turned into a lovely caramel-coloured spread which I used to drizzle on the serving plate, as well as the heart itself.
But I also wanted something with colour. Since raspberries aren't in season, a raspberry sauce was out of the question. Instead, I made use of the currants that I collected during the summer from our currant bushes. I cooked the currants with sugar and powdered pectin to form a lovely glaze. Unfortunately, I overcooked the glaze slightly so it was a bit difficult to drizzle, but still, the end result was lovely.
This dessert was out of this world! Light and fresh, we had no difficulties polishing off the entire heart. And the dulce de leche and currant glaze went very nicely with the dessert.
What can I say? Sweet Love is glorious, especially when some long-held dessert dreams get to come true.
-- Originally published on Ivonne Mellozzi's blog Cream Puffs in Venice.