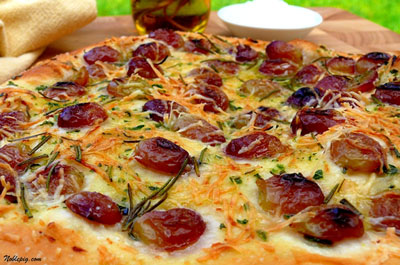 It would be great if I had the time to make "real" focaccia bread, unfortunately my life is just too crammed with a million other activities at the moment. However, this simplistic version of the classic Italian peasant bread comes together in an instant.
This is wonderful finger food and a great party appetizer. In the oven, the grapes become lightly roasted, soft and juicy. The contrast of the salt and sweet really make this a winner.
Because you are using already prepared pizza dough, it takes no time at all to get this on the serving table. Every Mom's dream!
Your friends and family will thank you!
Easy Grape and Rosemary Focaccia
From Taste of Home
1 pound refrigerated or thawed pizza dough
2 Tablespoons extra-virgin olive oil, divided
1/2 teaspoon Kosher salt (I only used a 1/4 teaspoon)
1/2 teaspoon dried basil, crushed
2 cups seedless red grapes, halved
1 Tablespoon snipped fresh rosemary
1 Tablespoon grated Romano cheese
Let pizza dough stand at room temperature 15 minutes. On a lightly floured surface, roll dough to 12 x 8 inch rectangle. If dough begins to pull back while rolling, let rest 5 minutes. Really try to get it to the size indicated, otherwise your dough will be too thick. It does take a little time and I had good luck using a rolling pin and my hands to stretch the dough. You also do not want a real thick crust.
Transfer dough to a lightly greased baking sheet. Using a fork, prick dough. Cover; let rise in a warm place for 30 minutes.
Preheat oven to 450°F. Brush dough with 1 Tablespoon of oil; sprinkle with salt and basil. Arrange grapes on dough; sprinkle with rosemary and cheese. Bake 20 minutes or until puffed and lightly brown. Drizzle with remaining 1 Tablespoon oil. To serve, cut into strips with a pizza cutter. Serve warm or at room temperature.
Cathy runs her own vineyard and winery in the Willamette Valley of Oregon. She is a food writer forDavis Life Magazine and blogs daily about wine, food and everydayliving. She lives with her husbandand two sons. You can visit her at noblepig.com.