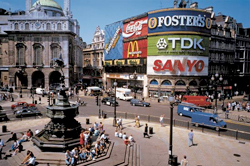 Spring break senior year at New York University is not exactly a vacation. Two months before I graduate and I still have to prepare for my colloquium (a focused study amalgamating everything I've learned up 'til now.) This requires reading the last five of the twenty books on the booklist; plus I still need to get to page 60 of the screenplay I may have started in my head but isn't exactly on the computer.
So spring "break" is more like a long study session, split up by small breaks of art, shopping, and of course, food. It didn't matter that I got to go to London; basically, stress oozed out of every pore the entire ten days. I tried everything. I tried doing yoga; I tried going for runs; I tried a few breathing exercises, and sure, all of that helped, but there's really only one thing that hit the spot: chain restaurants. Chains are my Xanax. Entering the chain atmosphere relaxes me. Something about knowing it exists in the same form in a million different locations other than here. I really cannot tell you why, it just does. So I dragged my dad all over London in search of them, and lucky for me, London has some really good chains.

Wagamama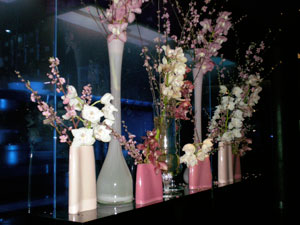 Every time I am in London my Dad takes me to this amazing happening restaurant off Piccadilly Circus: Yuatchua. The restaurant makes me feel tall. I think it's the low tables, but it could be the jetlag.
They serve dim sum, and if you get there before 5 pm they do a traditional Chinese tea ceremony off of probably the most extensive tea menu I have ever seen: some of the teas on the menu are up to £300.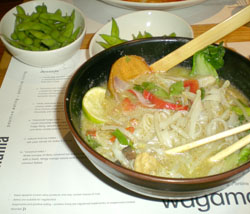 "The owners of this restaurant also own Wagamama, that noodle chain you see everywhere," my dad tells me. "Chain?" my eyes light up. "We have to go there."
And sure enough, the next afternoon, I found myself sans orchids, sans candles amidst crucifix wall fixtures, sans high heels, in a brilliantly lit (in order to evoke that overall communal feeling) chain restaurant, Wagamama. Awesome edamame, excellent coconut noodle soup, lots of hot sauce…messy paper place mats.


Ping Pong
There is a Ping Pong on every corner. "We have to go there," I again told my dad. "I don't care what it is, I love the name." 'Little Steamed Parcels of Deliciousness' reads the tag name under the title of the menu.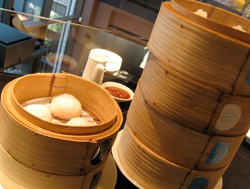 Order four dishes per person off the checklist at your table. They bring stacks of bamboo dishes filled with dumplings, cakes and other small dishes. It's Dim Sum. And its amazing. Deliberately elegant with a dash of fast food. Wasabi Three Beans mix, check. Spicy Vegetable, check. Sweet Corn and Coriander, check. Baked Puff, yes please.
Drift off into some fabulous people-watching, or drift off into the small garden floating in your drink. And know that just around the corner, in an adjacent neighborhood, you could be having the same experience, and in the next few days probably will.

And then there was Pret a Manger, which there isn't much to say about except the warm feeling it gave me in the pit of my stomach walking inside. I didn't stay to eat, so I really can't say much, but it meant something to wander in and out.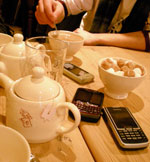 And lastly, there was Le Pain Quotidien. This was the best one, because I personally watched this chain's growth. I feel like a kindergarten teacher who got to watch each one of her student's firsts. Honestly, when it was just another café on Melrose, I didn't love it.
When it opened up in Beverly Hills and Brentwood I looked on with skepticism, but now that it has practically taken over New York and there's just short of a million in London, Le Pain Quotidien has crawled its way into the center of my heart. Plus they have a lot going for them. Free WiFi. Excellent tea. Beautiful open faced sandwiches. Friendly waiters. Wooden tables. Gorgeous couples. More tea.

Boston


by

Lisa Dinsmore





There are people who, when on vacation, go wherever the road takes them. I am not one of them. If I'm going somewhere new and only have a few days to explore a place, I'm going to find the best...

Read more...

Los Angeles


by

David Latt





To great acclaim, José Andrés recently opened four restaurants (Rojo, Blanco, Saam, & Patisserie) and a bar (Bar Centro) on the ground floor of the SLS Hotel (465 S. La Cienega, Los Angeles, CA 90048;...

Read more...

New York


by

John Scurti





My new best friend, Laraine Newman, recently took me to Carmines here in Los Angeles, an old school Italian joint that was once the stomping grounds of the Rat pack. From what I heard, there was...

Read more...

London - British Isles


by

Ilene Amy Berg





What is it with all the Queen's men? In an earlier piece on great sandwiches in London, I mentioned my British friend Craig, who now lives in LA and told me "there are no great sandwiches in...

Read more...