Braised Endive
by Matt Armendariz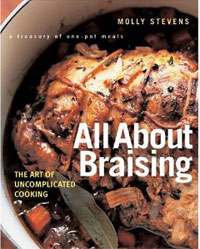 Well it certainly seems that Molly Stevens All About Braising: The Art of Uncomplicated Cooking
cookbook hasn't been the best for me. It's honed in on my compulsive nature and practically forced me to braise anything and everything this past week.
Why was this never added to our collection until now? Where have I been all this time? Jeez.
And I know I know, braising as a primary cooking method can get a bit tiring if overdone; it is possible to become bored with a method that leaves everything soft, tender, and moist. Ok, that was a joke folks! I don't think I'd ever get tired of braising if it's limited to this time of year when I don't mind neglecting the crunch of a baby spring vegetable or the snap of a green pea.
To me, braising equals comfort. However, I do need some variety in my life, and I love the fact that I've discovered recipes for braising vegetables. Growing up my mom made wonderful braised dishes like pot roast and corned beef and cabbage but I never thought of using vegetables as the featured ingredient. And why not? It seems as if braising makes everything better, and the addition of a little fat in the form of bacon or prosciutto, well, seriously, must I tell you how delicious that is?
(As I type this my Gourmet Weekly email newsletter arrived touting the pleasures of celery root, another fave of mine. Included in the email is a recipe for Braised Chicken with Celery Root & Garlic. I think I know what I'm making for dinner!)
Braised Endive With Prosciutto from All About Braising by Molly Stevens
Clearly a recipe that's greater than the sum of its parts. But then again, I do love endive and I do love ham. It's hard to explain the silky texture of the cream with the endive and how utterly delicious it is with the most unique mouthfeel. The prosciutto is a wonderful contrast.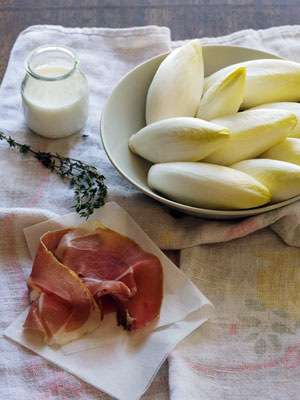 Ingredients
6 to 9 Belgian endive (about 1 1/2 pounds)
3 tablespoons unsalted butter
4 thin slices of prosciutto (or Serrano), cut crosswise into 1-inch-wide strips with fat left on
coast salt and freshly ground black pepper
1/2 cup chicken stock
1/4 to 1/3 cup heavy cream
Method
1. Heat the oven to 375 degrees. Butter a large gratin dish or baking dish (9-by-13-inch).
2. Trim the endive by removing the outermost leaves and trim the bottom if they appear brown or dried out. Cut each endive lengthwise in half.
3. Melt 2 tablespoons of butter in a large skillet over medium heat (nonstick or well-seasoned cast iron are good choices since the delicate leaves won't stick or tear, but any decent skillet will do). When the butter just stops foaming, add as many endive, cut side down, as weill fit in a loose layer and cook until the cut sides are nicely browned, about 4 minutes. Using tongs, turn the endive and brown for a minute or two on the other side. Transfer the browned endive to the grain dish, arranging them cut side up. Add the remaining tablespoon of butter to the skillet and brown the rest of the endive. The endive should fit in a snug single layer in the gratin dish.
4. There should still be a film of butter in the skillet. Still over medium heat, add the strips of prosciutto to the skillet and turn to coat them with the butter. Tuck a few strips between the endive and drape the rest over the tops. Season with salt and pepper, keeping in mind that the prosciutto is salty. Add the stock to the skillet and bring to a boil over high heat. Scrape the bottom of the pan with a wooden spoon to loosen any brown bits, and pour the stock over the endive and prosciutto.
5. Cover the dish tightly with foil. Braise until the endive are collapsed and tender when pierced with a sharp knife and have a true burnished hue, 30 to 35 minutes.
6. Remove the foil and baste the endive by spooning over any juices from the pan. If the pan is dry, add 2 tablespoons of water. Braise, uncovered, for another 8 to 10 minutes, unitl the pan juices have turned a caramel color and almost completely evaporated. Pour over the heavy cream–the lesser amount if you want something less rich tasting–and bake until the cream takes on a caramel color and thickens to a sauce-like consistency, another 6 minutes or so. Spoon over any pan drippings, and serve warm or at room temperature.
-- Also published on MattBites.com
New York


by

Sara Mohazzebi





My father has a way of making everything unforgettable. He's loud, temperamental, incredibly passionate, and a romantic to the core. So it seemed completely natural to me when he took me to...

Read more...

San Francisco


by

Scott R. Kline





Redrum Burger in Davis, CA sits catty-corner to an In-N-Out Burger just off the freeway. Redrum was there long before In-N-Out and judging from the line at lunch time on a recent Thursday, they...

Read more...

Florida


by

Ann Nichols





On the second day of our Florida trip, we dined at one of our favorite, always good, "coming home" restaurants in Apalachicola: The Apalachicola Seafood Grill. Located in the heart of "downtown"...

Read more...

Texas


by

David Latt





Austin has a lot going on. Besides being the state capital, the city has amazing music venues with a great collection of bars and a dynamic food scene. Austin has it all. Upscale, fine dining...

Read more...