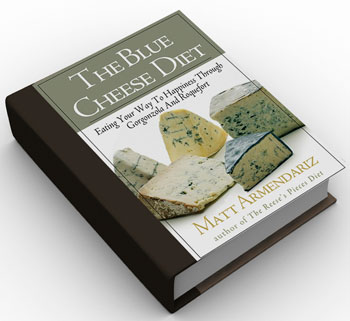 Sometimes I think I should just throw caution to the wind and write a book called "The Blue Cheese Diet: Eating Your Way To Happiness Through Gorgonzola And Roquefort". I'd take all the photos, test each recipe personally, get it published, then do the TV show talk circuit, answering questions like "How did you come to invent the Blue Cheese Diet?" and "Now correct me if I'm wrong, but you went from 186 lbs to well over 350 lbs over the last 15 months, right?" The audience would snicker and laugh and point, I'd wipe the sweat from my face, and then they'd wheel me out on some gurney and my cookbook would be on the clearance rack at some B. Dalton close out sale a few months later, or worse, a bogo.
On second thought, I think I'll stick with the day job.
But seriously, if I knew I could live on blue cheese I'd probably do it. I always seem to crave the full flavors of blue and when the craving starts no amount of cheddar or aged anything will suffice. I realize eating so much blue cheese is the taste equivalent to listening to my iPod at full blast, but that's not to say I don't appreciate the subtle flavors of shyer cheeses – I most certainly do!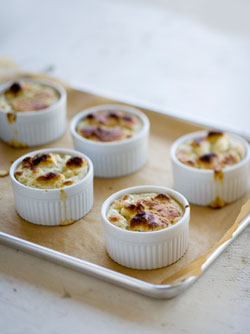 But hey, life is too short, which is why I've made it my purpose to enjoy as many types of blues as I can get my grubby little hands on. It's what cheeseheads like me do. As with many varieties of cheeses, almost every corner of the globe produces their own version of blue cheese, and believe me when I say I haven't yet a blue cheese I haven't liked. Gorgonzola, Cabrales, Roquefort, Stilton, even my state's own Point Reyes Original keep me a very happy fat man.
Right now I'm enjoying Roaring 40's Blue Cheese from Australia. From King Island, Roaring 40's is a cow's milk cheese that is matured in wax, giving it a creamy consistency throughout the entire wheel. It's a mild blue, with sweeter notes and a much creamier consistency than its crumbly cousins. It also makes a fantastic soufflé!
Roaring 40′s Blue Cheese & VPC Truffle Honey Soufflé
This recipe comes from my friend Chris at Valley Produce Company in Victoria. I'll save the accolades and idol worship for an upcoming post, but Chris is an amazing character and truly passionate about his food. He's an inspiration. If you can't find his VPC Truffle Honey in your local market you can substitute any honey you'd like. Of course you'll miss the truffle flavor, but hey, what can you do?
Serves 4
1 cup milk
1⁄2 lb blue cheese, soft & creamy
5 eggs, separated
3.8 oz plain flour
2 tablespoons VPC Truffle Infused Honey (or other honey)
salt & pepper
Heat the milk over the stove and add the blue cheese. Whisk until the cheese melts. In a bowl, mix the egg yolks and flour together. Add the milk mixture to the egg mixture until well combined. Return to the heat and mix consistently for about 5 minutes. Add the VPC Truffle Infused Honey and mix well. Season to taste and set aside until cooled to room temperature.
Spray soufflé moulds with oil spray or line with butter. Preheat the oven to 390 F. Beat the egg whites until they form firm peaks. Add a small amount of egg whites to the blue cheese mixture to break it down, then gently fold the remaining egg whites through. Add some of the mixture to the soufflé moulds, then fill to the top.
Put on a tray and bake for 8-12 minutes depending on the size of the soufflé dish or until the soufflé is raised above the mould by 2 cm.
-- Also published on MattBites.com