Best Simple Boiled Corn on the Cob
by James Moore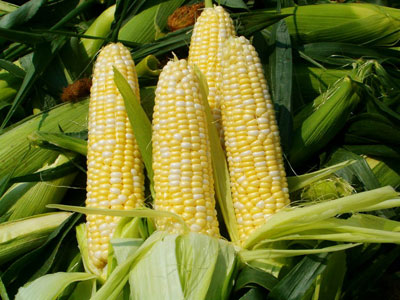 Fresh corn on the cob just seems to be a summer tradition for most people. It's so simple to do, but everyone I know seems to use a different method – grilled, steamed, boiled, microwaved.
When I was growing up, we picked fresh corn from the garden and it was thrown into a pot of boiling water, cooked briefly, stacked on a large platter, slathered with butter and placed in the center of the table.
It's still my favorite method, although grilling is a close second. This recipe is pretty fool proof and brings out the natural sweetness of fresh corn.
Best Simple Boiled Corn on the Cob
4 teaspoons granulated sugar
4 ears fresh yellow corn, husked
Butter
Salt and ground black pepper
Pinch of cayenne, optional
INSTRUCTIONS
1. Place corn in large container and soak in cold water to cover for at least 30 minutes.
2. Bring 1 gallon water and sugar to boil in large pot. Add corn; return to boil and cook until tender, 5 to 7 minutes. Drain and serve with butter, salt, and pepper (and cayenne) to taste.
James Moore has been a cooking enthusiast since childhood and started blogging as a way to share favorite recipes with friends and family. His site, Cook Like James has grown to include restaurants, cookbooks, wines, and favorite places.
London - British Isles


by

Ilene Amy Berg





What is it with all the Queen's men? In an earlier piece on great sandwiches in London, I mentioned my British friend Craig, who now lives in LA and told me "there are no great sandwiches in...

Read more...

Los Angeles


by

David Latt





We had planned to spend New Year's Eve with friends and family but the flu and changes in schedules left us on our own. The New Year deserves to be celebrated, so we organized a dinner the first...

Read more...

Georgia


by

Laura Johnson





I grew up in the deep south, a small town called Hawkinsville, GA, population 3500. Probably the best thing I have ever eaten in my life is the BBQ we had on special occasions on our farm. I know,...

Read more...

Los Angeles


by

David Latt





La Sandia Mexican Kitchen and Tequila Bar shares the top floor of Santa Monica Place with half a dozen other restaurants, the Food Court and the Market.

You'll recognize La Sandia by the crowded...

Read more...