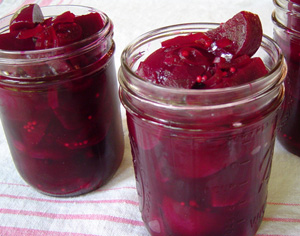 Do you remember how a peanut butter sandwich always tasted better when your mom made it? Just a couple of slices of bread sandwiching peanut butter. I'd make my own sandwich and it just never tasted as good as the one mom made for me.
Well, that's what happened with the beets I pickled yesterday. They taste fine, but just not the same as the beets my mom or my mother-in-law used to make. Since I didn't have a recipe from my mother-in-law, I looked in my mom's recipe file and found the one she must have used. Although she cheated just a bit and used beets in a can from the grocery store, I used the recipe for the brine she made.
The beets I cooked, peeled and heated in a brine were fresh from the farmers' market. Just as I remembered from the time my mother-in-law showed me how to make pickled beets, my hands were stained a pretty shade of red by the time I was finished peeling the beets.
The rest was so easy. Boiling the brine for a few minutes, adding the beets and heating them in the brine and then, after they cooled, I put them in the refrigerator. These beets will not be preserved in sealed jars. They will stay refrigerated. This way, it will be very convenient for me to sneak in for a snack now and then. I'll also serve them as a side salad, top green salads with them and make appetizers by spreading some seasoned cottage cheese on rye bread chunks and topping each one with a pickled beet.
Mom's Pickled Beets
4 pounds fresh beets
3 cups thinly sliced onions
2 cups vinegar (I used cider vinegar)
2 cups sugar
2 cups water
1 teaspoon whole allspice
1 teaspoon whole cloves
1 1/2 teaspoons fennel seeds
1 tablespoon mustard seeds
Trim tops from beets, leaving about 2 inches of the stems attached. Cover the whole beets with water in a large pot. Boil until they are tender when a fork is poked into them. Drain the beets. Peel and remove the stems. Cut into chunks — a size that fits into the mouth without cutting it first. Set aside.
Combine the remaining ingredients in a large pot. Bring to a boil. Decrease heat and simmer for 5 minutes. Add the prepared beets and heat through. Chill the beets in the juice. These will keep in a tightly covered glass bowl or jar for several weeks in the refrigerator.
Sue Doeden is a popular cooking instructor, food writer and integrative nutrition health coach. She is the host of Good Food, Good Life 365 on Lakeland Public Television. Her own hives full of hardworking bees and her love of honey led to the creation of her recently published cookbook, Homemade with Honey.