Beet and Apple Salad
by Joseph Erdos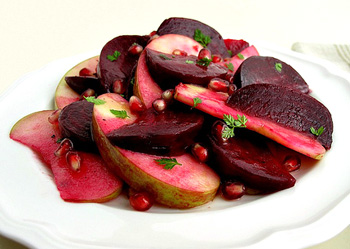 I love mixing sweet and savory in a recipe. It's a flavor combination I enjoy. In classic holiday recipes you'll find apples mixed into vegetable sides, or honey-roasted chicken, or pomegranates sprinkled on salads. This dish combines apples, honey, and pomegranates with earthy beets to create a salad that's perfect for the celebration of renewal.

A little bit of fruit adds vibrancy to many dishes. Here apples are a sweet and crunchy contrast to earthy roasted beets. Pomegranate seeds strewn over top add bursts of tartness. A honey-based apple cider vinaigrette ties everything together.
This salad would make a nice first course or side salad. It's refreshing and flavorful, opening the palate to a world in which sweet and savory work harmoniously together.
Beet and Apple Salad with Honey Dressing and Pomegranate Seeds

for the roasted beets:
4 medium to large beets, greens discarded
olive oil
fine sea salt
freshly ground black pepper

for the dressing:
4 tablespoons extra-virgin olive oil
1 tablespoon apple cider vinegar
2 teaspoons honey
1 teaspoon Dijon mustard
fine sea salt
freshly ground black pepper

for the salad:
1 Gravenstein apple, cored, sliced into thin wedges
1/3 cup pomegranate seeds
2 tablespoons coarsely chopped chervil leaves

Preheat oven to 375 degrees F.

On half of a large piece of foil, toss beets with a drizzling of olive oil. Season with salt and pepper. Fold over foil and crimp together edges to create a packet and seal tightly. Place on a rimmed baking sheet and roast until tender, about 45 to 55 minutes.

Let the beets cool until easy to handle. Peel by rubbing skins with a paper towel. Cut beets into thin wedges. Toss with a small drizzling of dressing and season with salt and pepper.

After slicing apple, immediately toss slices with a small drizzling of dressing to keep from browning.

In a large bowl, carefully toss together apples and beets. Divide among plates or transfer to a serving platter. Drizzle over with remaining dressing. Scatter over with pomegranate seeds. Garnish with chervil.
Yield: 4 to 6 servings.
Joseph Erdos is a New York–based writer and editor, butabove all a gastronomer and oenophile. He shares his passion for foodon his blog, Gastronomer's Guide , which features unique recipes and restaurant reviews among many other musings on the all-encompassing topic of food.
Northern California


by

Laraine Newman





I recently performed Celebrity Autobiography at the Wells Fargo Center For The Arts in Santa Rosa. I didn't know where Santa Rosa was nor did I realize that the Welles Fargo Center was a hip...

Read more...

Florida


by

Nancy Ellison





Palm Beach is different from other tidy resort cities that line the Florida Coast. While remarkably tidy, it is also both eccentric and pretty, and I do believe it has its own wacky, elegant soul.

... Read more...

Boston


by

Kitty Kaufman





Each night there is a line. I ask a young woman from Orlando, why? She says, "They're good." And what else? She points to the window sign: "They're on TV." They are on TV, on TLC: "All new...

Read more...

Georgia


by

Lou Jane Temple





Mrs. Wilkes has passed away, but her family and staff on Jones Street are carrying on her tradition. You still sit at big round, oak tables with strangers. You still take your own dirty...

Read more...