Beet and Apple Salad
by Joseph Erdos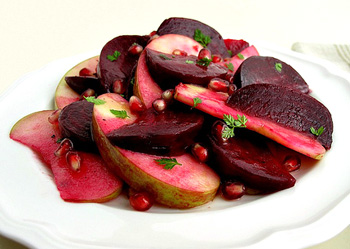 I love mixing sweet and savory in a recipe. It's a flavor combination I enjoy. In classic holiday recipes you'll find apples mixed into vegetable sides, or honey-roasted chicken, or pomegranates sprinkled on salads. This dish combines apples, honey, and pomegranates with earthy beets to create a salad that's perfect for the celebration of renewal.

A little bit of fruit adds vibrancy to many dishes. Here apples are a sweet and crunchy contrast to earthy roasted beets. Pomegranate seeds strewn over top add bursts of tartness. A honey-based apple cider vinaigrette ties everything together.
This salad would make a nice first course or side salad. It's refreshing and flavorful, opening the palate to a world in which sweet and savory work harmoniously together.
Beet and Apple Salad with Honey Dressing and Pomegranate Seeds

for the roasted beets:
4 medium to large beets, greens discarded
olive oil
fine sea salt
freshly ground black pepper

for the dressing:
4 tablespoons extra-virgin olive oil
1 tablespoon apple cider vinegar
2 teaspoons honey
1 teaspoon Dijon mustard
fine sea salt
freshly ground black pepper

for the salad:
1 Gravenstein apple, cored, sliced into thin wedges
1/3 cup pomegranate seeds
2 tablespoons coarsely chopped chervil leaves

Preheat oven to 375 degrees F.

On half of a large piece of foil, toss beets with a drizzling of olive oil. Season with salt and pepper. Fold over foil and crimp together edges to create a packet and seal tightly. Place on a rimmed baking sheet and roast until tender, about 45 to 55 minutes.

Let the beets cool until easy to handle. Peel by rubbing skins with a paper towel. Cut beets into thin wedges. Toss with a small drizzling of dressing and season with salt and pepper.

After slicing apple, immediately toss slices with a small drizzling of dressing to keep from browning.

In a large bowl, carefully toss together apples and beets. Divide among plates or transfer to a serving platter. Drizzle over with remaining dressing. Scatter over with pomegranate seeds. Garnish with chervil.
Yield: 4 to 6 servings.
Joseph Erdos is a New York–based writer and editor, butabove all a gastronomer and oenophile. He shares his passion for foodon his blog, Gastronomer's Guide , which features unique recipes and restaurant reviews among many other musings on the all-encompassing topic of food.
New England


by

Melanie Chartoff





I hail from New Haven, although I've frankly never in my life hailed, even for a taxi cab. It's simply not my style. I visit the Elm City (although I'm not sure why it's nicknamed thus as all the...

Read more...

Washington


by

Kathleen Alluise





About a week or so ago, the husband, pup, and I went to Seattle to see my family and spend some time in the (rare) Seattle sunshine. We went to the Ballard Farmer's Market, a plethora of fresh...

Read more...

Northern California


by

Amy Ephron





What if your favorite restaurant was in the same state you were in but it was 9 hours away???

We really couldn't take a vacation this summer but we did run off for a week-end to Mendocino (don't...

Read more...

Southern California


by

Anna Harari





"Can I get real milk?"


"Honey, you're not in LA, it's creamers or black coffee for you."

He must have been expecting a brat face back because my smile caught him off guard. He had no idea...

Read more...