Apple Slab Pie
by Susan Salzman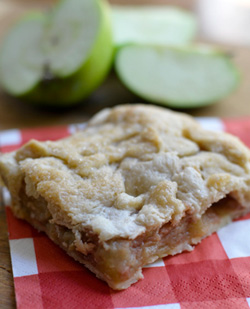 Raise your hand if you have an over abundance of apples right now. I thought so! There are many things I want to do with my apples; make apple challah, apple sauce, apple cake, and an apple slab pie. Well, 1 out of 4 isn't so bad now, is it?
This past summer I made a cherry slab pie and it was so good. I shared it with my friends and, without tooting my own horn, we are still talking about it. So, why not an apple slab pie? The pastry from the cherry slab pie was near perfect. I made another batch of the dough and then simply switched out the fruit. Apples cook differently than cherries, so I adapted the filling from a recipe from The Cook's Country Cookbook
.
Slab pies are great for a crowd. And this pie fed a huge crowd. It was demolished in about 15 minutes. I had one teeny tiny bite. That teeny tiny bite was really good. I am going to make this many times over throughout out the next few months. Next time I will pair my apples with some fresh pomegranate seeds!
Think about this apple slab pie for your Thanksgiving Dessert Table. Maybe add some cranberries or some pomegranate seeds! Your guests will thank you later!!
Apple Slab Pie
crust adapted from here

yield: 16 servings
Ingredients:
7 lbs apples (3 1/2 lbs tart apples, 3 1/2 lbs. sweet apples) peeled, cored + cut into chunks
1 1/2 cups sugar
4 tablespoons unsalted butter, melted
4 tablespoons cornstarch
3 tablespoons fresh lemon juice
zest of two lemons
2 teaspoons cinnamon
1/2 teaspoon salt
Instructions:
Roll out dough according to this. Preheat oven to 350°F and butter and flour a 10″ x 15″ jelly roll pan.
Toss the apples with 1 cup of sugar and place in a colander set over a bowl (to catch the juices). Reserve the "apple juice". In a large bowl, mix the apples, cornstarch, lemon juice, zest, cinnamon, and salt. Add 2 tablespoons of the reserved juice.
Spread the apple mixture over the bottom layer of crust. Place the second dough over the apples and with the overlap of the bottom layer of crust, seal the top and bottom crust together.
Brush the entire surface with an egg wash (1 egg + 1 tablespoon of water, whisked) and then sprinkle with turbinado sugar.
With a knife, make a few slits in the top of the crust so the steam can release during baking. Bake the pie until the juices are bubbling, and the crust is golden brown, about 1 hour. Let the pie cool on a wire rack! Cut into 3″ squares and serve!
Susan Salzman writes The Urban Baker blog to explore her dedication to good food in the hope of adding beauty to the lives of her family and friends.
New York


by

Michael Tucker





The Upper West Side just joined the world. Move over East Village; now us UWS Jews can sneak out of synagogue on the High Holy Days and chow down on steamed pork buns without leaving our own...

Read more...

Southern California


by

Anna Harari





"Can I get real milk?"


"Honey, you're not in LA, it's creamers or black coffee for you."

He must have been expecting a brat face back because my smile caught him off guard. He had no idea...

Read more...

Los Angeles


by

Terry Wunder





When I originally conceived of taking a self-led tour of the LA food trucks with some friends it was to see who was trying to capitalize on the success of Kogi BBQ, the crossover Mexican-Korean...

Read more...

Los Angeles


by

David Latt





To great acclaim, José Andrés recently opened four restaurants (Rojo, Blanco, Saam, & Patisserie) and a bar (Bar Centro) on the ground floor of the SLS Hotel (465 S. La Cienega, Los Angeles, CA 90048;...

Read more...