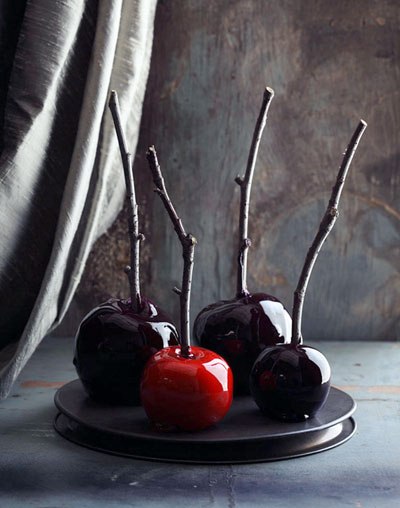 Full confession: When I was about 4 or 5 years old I was so utterly terrified of Halloween that I once ran from the dinner table to the bedroom where I locked myself inside it for 20 minutes while Trick or Treaters came to the front door of the house. I'm not sure why I did that exactly as I wasn't normally a timid or shy child; I think my dramatic exit had more to do with the fact that I enjoyed that sense of fright, darkness and mystery that rolls around every October. I like to be scared when I know nothing bad will actually happen.
This explains my interest in fright nights, scary movies, haunted houses, macabre scenarios, you name it. I think there's a part of all of us that likes that thrill…why else would we visit haunted houses, watch slasher films, and listen to Paris Hilton songs and videos?
Not that I've done the latter. Even that's too scary for me.
When I mentioned to Adam that I wanted to do my first Halloween blog post about a cocktail I tried he quickly informed me that it would neither be a) exciting b) deep enough or c) have enough pizazz. "What's so exciting about a cocktail, all by itself?" he asked. I could see his point as there are tons of others who focus on spirits and do a much better job. Besides, this drink wasn't anything exciting or thrilling but perfect for the grown-ups at any Halloween party. "Give me a few minutes and I'll help you out" said Adam.
Wow. Was my drink really that lackluster that it needed help? Apparently so.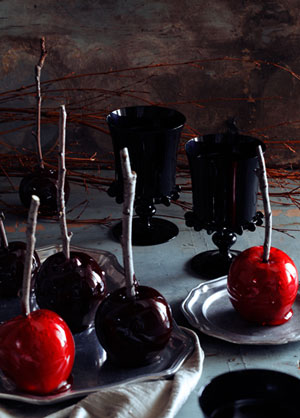 He grabbed his car keys, ran to the store, came back but not before making a detour to the front yard where he began tugging at one of the trees. My partner isn't a man of a thousand words (which must be why we're a great match) but sometimes stoic and methodical. He was up to something I could tell but I didn't quite know what. When he returned to the kitchen he ransacked his baking shelf, took out the candy thermometer, a sheet pan and began his kitchen alchemy.
What happened next was pure magic.
I walked back into the kitchen to find the most beautiful candied apples before me. Black glossy cinnamon-scented candied glass enveloped small apples, twigs became their handles, and a few shockingly red candied apples only made their black counterparts more ominous. It was halloween on a silpat, a spooky forest that completed my cocktail.
I had no choice but to have him bundle up the apples, head to the studio with me where I knew exactly how I wanted to photograph them. They joined my new favorite black wine goblets from Juliska in an eery still life that still gives me the chills when I look at it. Only this time there's no need to lock myself in my bedroom.
Red & Black Candy Apples
8-10 medium sized apples
8-10 wooden twigs, twimmed
3 cups granulated sugar
1/2 cup light corn syrup
1 cup of water
several drops of cinnamon flavored oil
1/4 teaspoon of red food coloring
1/4 teaspoon of black food coloring
Clean and dry the apples. Try to remove as much of the wax as possible. If you purchase them from your local farmer's market then chances are they have not been treated with the food grade wax that makes then shine. Remove any stems or leaves and insert a twig into the end of each apple. To facilitate easier twig entry you can carefully sharpen the end of the twig or use a candy stick to create a guide hole. Set apples aside.
Heat and stir sugar, corn syrup and water in a saucepan until sugar has dissolved. Boil until the syrup reaches 300 degrees on a candy thermometer. Don't go over 310 degrees or your candy burns and then you'll be sad.
Remove from heat and stir in flavored oil and food coloring.
Dip one apple completely in the syrup and swirl it so that it becomes coated with the melted sugar candy. Hold the apple above the saucepan to drain off excess. Place apple, with the stick facing up, onto a baking sheet that's greased or lined with a silpat. Repeat the process with the remaining apples. If your syrup thickens or cools too much, simply reheat briefly before proceeding. Let the apples cool completely before serving.
A note about the black apples: Lighter colored apples (Granny Smith, Golden Delicious) work well in making the red appear bright and glassy; darker apples like red delicious help the black candy appear as dark as possible. Muy spooky!
Also, Adam made one batch with red food coloring and after he had a few red apples he reheated the candy mixture and added black food coloring. Adding black to red will make it darker. He repeated the dipping process. Black food coloring can be found online or at specialty baking stores.
Matt's Winter Cocktail

I only call this winter because it has the flavors of pomegranate, apple and pear. Other than that it's really just a sweet excuse to get drunk. The pinch of pumpkin pie spice in the drink gives it a holiday flair but it's subtle. You can use dry ice to make it spooooky if you make a large batch of it but I don't recommend putting dry ice into an individual glass if you want to keep your lips. Serves 2.

2 oz Pama Pomegranate Liqueur
2 oz Pear Vodka
4 oz Apple Cider or Juice
tiniest teensiest pinch of Pumpin Pie Spice
Add ingredients and crushed ice to a shaker and blend well. Empty drink and ice into a glass and get your drunk on.
-- Also published on MattBites.com