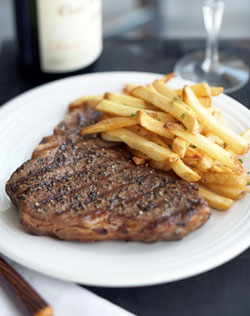 Growing up my mother and grandmother fed us picadillo, a dish of ground beef, potatoes, tomatos, onions and spices. It was the perfect meal–delicious and satisfying–and always enjoyed with fresh flour tortillas on the side. It's a dish I still crave to this day, and like most Latin cuisine it has its regional differences.
As I've traveled I've noticed that almost everyone has their own version of meat and potatoes, and it's easy to see why. A traditional Irish corned beef and potatoes, a Kashmiri Rogan Josh served with slowly stewed potatoes, or Brazilian churrasco enjoyed with mounds of Brazilian potato salad- – mix a protein and a starch and happiness is always guaranteed…not to mention a fully belly.
Sometimes in my moments of quasi-food snobbery I chide my friends who refuse to join me for dinner, fearing I'll pick something that falls outside their culinary comfort zone. I practically have to sign a form promising them no organ meats, no intense heat, no stinky cheese, no bellpeppers and certainly nothing that comes from the "strange" parts of an animal (which always leads me to ask why a rump roast isn't strange but a tongue is, but whatever!) However, the perfect meal to satisfy my picky meat-and-potatoes kind of friends are, well, meat and potatoes. But only meat and potatoes in their most simple, smoky and stripped down form: steak frites.
My mouth waters just saying that: steak frites. Grill a steak (with butter). Season with salt and pepper. Serve with French fries. Seriously people, how could you ever improve on perfection? It's one of the dishes that my picky friends and I can always agree on.
A Belgian favorite, steak frites can be found all over the world. It's a bistro classic, and depending on where you're dining the cut of meat will vary. Sometimes it's hanger steak that's seasoned and sliced, other times it's a higher quality cut of meat that's grilled, topped with butter and served with fries. To me the best part is halfway through the steak, dipping salty fries in the juices that have mixed with butter on the plate. Cholesterol be damned!
Of course, it's not something I can really allow myself to enjoy on regular basis, so when I'm going to indulge in full fats and fried foods, a steak frites it is!
Steak Frites
From the Everybody Eats Well in Belgium Cookbook by Ruth Van Waerebeek.
Ingredients
4 beef steaks, such as porterhouse, sirloin, rib eye, shell or filet mignon (1/2 pound each and 3/4 to 1 inch thick), or one 2-pound steak
5 tablespoons unsalted butter
salt and freshly ground black pepper to taste
1 tablespoon water
Fries (however you choose to prepare, but I prefer a smaller cut than a big giant steak-cut fry for this recipe)
Method
With a sharp knife, make small incisions, about 1 1/2 inches apart in the fat around the outside of each steak.
Melt 3 tablespoons of the butter in a large heavy skillet or sauté pan over high heat until hot but not smoking. Add the steaks and sear for 1 minute on each side. Reduce the heat to medium. Season the steaks generously with salt and pepper and continue cooking, turning the steaks every other minute, until you see little pearls of blood come to the surface, about 6 to 8 minutes. The steaks should be cooked rare to medium for juicy, tender meat.
Remove the steaks and place them on warmed plates. Over medium heat, deglaze the pan with the water and swirl in the remaining 2 tablespoons butter. Drizzle these pan juices over the meat and serve at once with fries. Serves 4.
Matt says: Don't forget a big glass of beer. Or wine. Lots.
-- Also published on MattBites.com