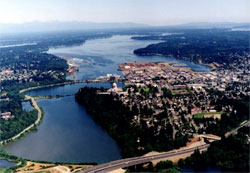 Olympia is a charming little city in the Pacific Northwest, set down on rolling hills surrounded by forests of Douglas-fir, bigleaf maple and red cedar – a pretty, speckled egg resting in a nest of twigs.

This is the old part – the far end of the Oregon Trail, settled on Native American land by Europeans in the 1850's – where Leopold Schmidt founded the Olympia Brewing Company in nearby Tumwater Falls and sold his beer, if you recall, with the slogan, "it's the water", which I'm surprised none of the hundreds of water bottlers has adopted now that Leopold's beer business has folded.

This is Downtown Olympia, with its century-old buildings, its perfectly-proportioned Capitol, its tree-lined streets on which people drive politely and you can always find a place to park – often without a meter – near the still-family-run bookstore or café or bike shop you want to go to.

But that's not where I wanted to go, or rather needed to go, to help my son move into an unfurnished apartment. We needed to head over to the other part of Olympia and it is this part – which I imagine you'd find outside most other American towns of its size – that I'm still trying to figure out as the plane banks over Puget Sound taking me home.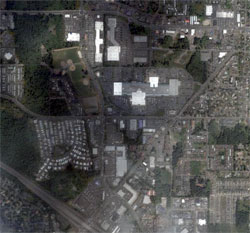 I'm speaking of malls. But not just malls. We have no shortage of malls in Los Angeles, though the developers like to call them 'marketplaces' these days as they build them to look more and more like Main Street USA, Disneyland, where you park your car deep in underground caverns or up great towers.

This is something else. A mile outside Old Olympia you encounter a triangle of streets – Harrison Avenue, Cooper Point Road, and Black Lake Boulevard – that form a kind of fence around malls next to malls next to malls across from malls next to malls next to malls – old school shopping centers, or plazas – separated only by placid gray seas of parking lots.

Even that might conceivably be understood but for this fact: At each of these outdoor malls – sometimes at the same one – are giant chain stores chewing up great chunks of real estate, selling the same things at the same price to the same customer demographic – all within easy shopping cart distance.

There is a Circuit City within eyeshot of a Best Buy within eyeshot of a Target. A World Market sits kitty-corner to a Pier One. A Barnes & Noble within spitting distance of a Borders. A Rite-Aid a stone's throw from a Walgreens. A Big Lots next to a Dollar Depot next to a Goodwill. And a Bed Bath & Beyond just a couple hundred yards as the crow flies from a Linens 'n Things (or, as The Onion calls it, Linens-n-Shit).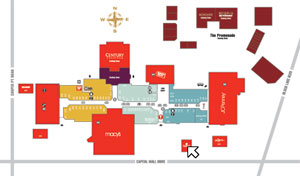 I could understand this phenomenon if, say, Bed Bath & Beyond was making so much money that the Linens 'n Things people said, Hey, we should open a store here. Or at Best Buy corporate headquarters they noticed the Circuit City guys had more business than they knew what to do with and decided to plunk down one of their own stores to split that business.

But that's not what's going on here. These stores don't have lines out the door. Their acres of aisles are clear for you to push your over-sized cart down as you look at mirror images of merchandise their competition is selling on racks lining their acres of aisles.

And the same is puzzlingly true of the restaurants, which I should not forget to mention since this is a food site. Take your pick, as we did each evening in our shopping comas, from Applebees, to Olive Garden, to Red Robin, to Outback, all within easy walking distance to one another, at ease with the knowledge you can't really go wrong since they all have basically the same menu, the same kind of décor, the same T.G.I.F. vibe (though none are T.G.I.F.), waitresses who tell you their names when you sit down and that everything is awesome even if it doesn't have pepper-jack cheese on it – which a lot of things do – and, most disturbing to me (and this is true of Dollar Depot and Big Lots as well), they're all playing the same Muzak that I used to think of as actual music – David Bowie, Talking Heads, The Police.
But strangest of all – and this is one for the record books – there are, separated only by the prairies of asphalt, four mattress stores: Mattress Depot, Select Comfort, America's Mattress, and Sleep Country USA.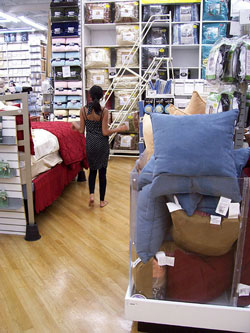 This is what I'm really puzzling over. It doesn't make much sense to me that Bed Bath & Beyond and Linens 'n Things should reside next to each other – if I took you in blindfolded and then took the blindfold off, you would not be able to tell me which of them you were in – but this mattress situation is beyond comprehension. Don't you buy a bed and basically keep it forever? Why is there only one grocery store – Safeway – where you go just about every day – and four mattress stores where you never go. What's happening here?

Did I mention Starbucks? When you need a double-shot-pick-me-up after the exhausting debate you had over which of the four mattress stores you don't need to go to, you will find fewer Starbucks than you did mattress stores, and this is the state that invented Starbucks. They're not on every corner of every intersection like they used to be in the old days before the stock plummeted and they retrained the staff to remember to say 'good morning,' thinking that would reverse their fortunes when everyone knows the reason people have stopped going there isn't because of unsmiling baristes; it's because coffee that tastes like water shouldn't cost $4. (Maybe they should pick up Leopold Schmidt's discarded it's the water slogan)

The plane is now descending over the Mojave Desert – which doesn't look all that different from the Cooper Point Village / Westfield Shoppingtown / Capital Mall / Target Square parking lots – so I will wrap up this report on the paved-over hinterlands of Olympia – except to say thank God for them. We furnished an entire apartment – from a $10 Goodwill sofa to a $1 Big Lots can opener, and everything else, in just three days, all within the borders of this remarkable if redundant tri-street retail mecca.

Just one more thing before I land. If you want a real breakfast with great onions-and-peppers home fries, drive a mile and a half due east of Red-Robin-Applebees-Olive-Garden-Outback to Darby's Café on 5th Avenue, downtown, right across from the grand old Capitol Theater. You won't be sorry.