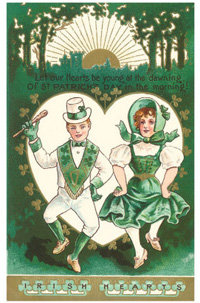 I used to hate St. Patrick's Day.

I grew up with working class Irish-American kids in one of the biggest Catholic parishes in San Francisco. All the nuns and the priests were Irish. They spoke with thick Irish brogues. Many of my classmates' parents had brogues. On St. Paddy's Day everybody else faked a brogue. They'd play that grinding fiddle music and make us do these silly step dances. Then somebody would pass the hat for the IRA.

If you weren't Irish, you couldn't wait for this holiday to be over.

Years later I visited Ireland. I found that St. Pat's Day wasn't as big a deal there. In fact, St. Patrick wasn't even Irish. He was a Roman taken slave by pirates or some other "pagans" and brought to Ireland. Corned beef and cabbage was not the national dish. As a B&B owner explained to me, a true Irish dinner was probably potatoes and seaweed. A poor family in Ireland couldn't afford meat. Only in America would they be so lucky.

One thing they always had was soda bread. Tonight I cranked up my Irish playlist (The Chieftains and Van Morrison, The Waterboys, Donal Lunny, U2) and baked a loaf. It's the best non-yeast bread around. It makes great toast in the morning.


QUICK IRISH SODA BREAD

Sift into a large bowl:

2 cups all purpose flour
1 1/2 tsp baking powder
1/2 tsp baking soda
1/2 tsp salt
1 tbls sugar

Cut into flour mixture with fork or food processor:

1/4 cup chilled shortening

Stir in (optional)
1/2 cup currants or
2 tsps caraway seeds

Mix flour/shortening mixture with:

1 beaten egg
2/3 cup buttermilk

Stir well. Knead briefly with hands. Place onto a greased 8-inch round pan. (Press down dough until almost flat.) Cut a cross into the top. Brush the top with milk.

Bake 35-40 mins in 375 degree oven. Check doneness with a knife.

Maria Elena Rodriguez is a writer who lives in California and has her own blog about food and travel called Madriguez.