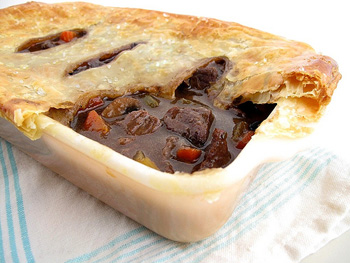 I love all types of savory pies, but one in particular is very special to me. The first time I ever heard of beef and Guinness pie was during my time studying abroad in London. I was so intrigued that I ordered it at a quaint, tiny restaurant that specialized in pies aptly named the Pie Room. It became the hang-out spot for my group of friends.
Over the course of our studies we could not keep away. I had the opportunity to try all of their pies. Beef and Guinness pie made the biggest impression on me and it still remains among my top favorite British foods. I can clearly remember my first bite: a tender cube of meat, a luscious sauce, and a crispy crust. So as St. Patrick's Day neared this month, I decided I wanted to cook something other than corned beef and cabbage.

When I think of Ireland, the first thing that comes to mind is the drinking culture. What surprised me the most about my time in London was seeing everybody on a Friday night drinking in hoards out in the streets around the pubs. Stereotypically everyone seems to think negatively about the drinking culture. But as someone who lived in Great Britain, I can say that it is a very enjoyable and communal way of meeting people, getting people together, celebrating life's events, or just for talking about the day over a few pints of stout or ale. I've not yet had the chance to visit Ireland, but if I do, I will make sure to visit the many pubs and make a pilgrimage to the temple of my favorite beer, the Guinness factory.

It just seems so natural to pair beef with Guinness. The slightly bitter, almost chocolaty, toasted barley flavor of the beer goes hand in hand with the earthy flavor of beef. When combined in a stew or pie such as this recipe, it creates a very robustly flavored meal that just sings of comfort food. Once all the beef is seared, it is combined with vegetables, a bottle of Guinness, and some water. It's all cooked until the beef is fork tender. After the sauce reduces, the entire contents go into a casserole that is topped with puff pastry and baked until golden brown. This dish is truly a communal dish, as everyone can just dig in and spoon out savory bowlfuls of stew. Enjoy with a tall pint of Guinness, of course.

Beef and Guinness Pie

2 tablespoons butter
2 tablespoons olive oil
2 pounds good-quality stewing beef, cut into 1-1/2-inch cubes
fine sea salt
freshly ground black pepper
2 large red onions, cubed
2 garlic cloves, finely chopped
2 large carrots, thickly sliced
2 ribs celery, thickly sliced
6 ounces cremini (baby bella) mushrooms, thickly sliced
2 tablespoons flour
1 12-ounce bottle Guinness
2 teaspoons finely minced fresh rosemary
1 sheet store-bought puff pastry
1 large egg, beaten, for egg wash
1 teaspoon coarse sea salt

Warm oil and butter in a heavy bottomed 6-quart saucepan or Dutch oven set over medium-high heat. Pat beef dry and season with salt and pepper all over. Add beef in batches to pan and sear all sides. Remove beef to a bowl.

To the hot pan add onions and cook until soft; add garlic. Add carrots, celery, and mushrooms; cook for about 5 minutes. Add a splash of water and scrape up brown bits from bottom of pan.

Return beef to pan. Stir in flour. Add rosemary. Pour in Guinness and just enough water to cover. Bring to a gentle boil. Cover with a tight-fitting lid, reduce to a low simmer, and cook for 1 to 1-1/2 hours or until beef is tender.

Preheat oven to 375 degrees F.

Using a slotted spoon, remove beef and vegetables to a bowl. Reduce sauce by half on medium-high heat, about 10 to 20 minutes. Check seasoning of sauce. Spread beef and vegetables in a 3-quart baking dish. Pour over with reduced sauce.

Roll out puff pastry to fit baking dish. Using a pizza cutter or sharp knife, trim edges to uniform size. Cut a few slits into dough. Brush edges of dish with egg wash. Place pastry over baking dish and brush top with egg wash. Sprinkle with coarse salt. Place on a rimmed baking sheet. Bake until golden brown, about 35 to 45 minutes. Serve with boiled potatoes and steamed peas.
Yield: 4 to 6 servings.
Joseph Erdos is a New York–based writer and editor, butabove all a gastronomer and oenophile. He shares his passion for foodon his blog, Gastronomer's Guide , which features unique recipes and restaurant reviews among many other musings on the all-encompassing topic of food.