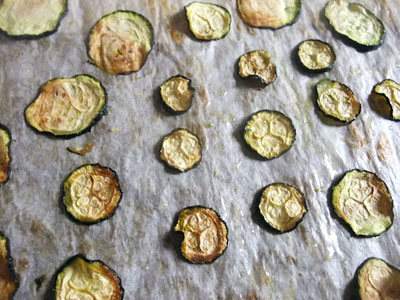 1 medium zucchini, about 6 ounces
1/2 teaspoon vegetable oil
1 pinch kosher salt, about 1/8 teaspoon

Preheat oven to 250 degrees. Slice the zucchini thinly, put not paper thin, using a mandolin if possible. Line a baking sheet with parchment paper or a baking mat.
Place the zucchini on the mat and toss lightly with the oil then place each piece of zucchini so it is barely touching the piece next to it.
Sprinkle lightly with salt and bake until crisp. Time will vary depending upon the type of oven you have and the size of the slices.
It may take anywhere from 1 1/2 - 3 hours so check them frequently and remove chips as they become fully crisp.
- Recipe courtesy of Amy Sherman