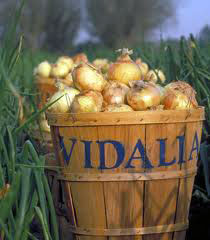 Like some twelve-year-old boy waiting for baseball's opening game each spring, I count the days until my sweet Georgia Vidalia County onions arrive. There is nothing so sweet or crunchy as a Vidalia onion. One can eat a fresh spring Vidalia onion as if it were an apple!
I first discovered Vidalia Onions in Rome, Georgia during location shooting on Mosquito Coast. A neighbor brought over a bowl of lightly chopped spring Vidalia Onions with a bit of sour cream. Not impressive looking, but when we all sampled the simple dish we melted! While crackers were offered, the taste was so fresh and delicate, l found myself gobbling it down without any added assistance.
The soil in Vidalia, Georgia has a low sulfur content, which apparently accounts for the sweetness of its onions. While Georgia has expanded the legally trade – marked onions cultivation to thirteen counties in the state, I like to get mine from Vidalia county – sentimental, I guess.
Go online to vidaliaonion.org and you will find information on the Vidalia Onion Museum grand opening, recipes (Vidalia Sweet Onion and Crab Soufflé for example) cook-offs, jingle contests, free down loads and news about the Vidalia Onion Festival. Some of the recipes –the aforementioned Onion and Crab Soufflé for example – are well worth a read! If onions for dessert sounds like your (onion) cup of tea there are recipes for Apple – Vidalia Cake and Vidalia Onion Chocolate Chip cookies!
But, when I get my first case of Sweet Vidalia Onions each year, I make onion soup.
SWEET VIDALIA ONION SOUP
The delicacy of the Vidalia onion calls for a light balance of ingredients so I use chicken broth rather than beef broth, and limit my garlic to a minimum. While I usually love wine in onion soup, I omit it in this recipe.
At least six Sweet Vidalia Onions
1/4 lb butter
Pinch of sugar
A bit of flour (about 1 ½ tablespoons)
32 oz. range free chicken broth
1 clove garlic (sliced in slivers)
A small portion of Brie cheese with the rind cut off (optional)
Gruyere cheese
Parmesan cheese to taste
Sourdough or French baguette slices cut on the diagonal
Preperation:
Melt the butter in an uncovered heavy soup pot. Add thinly sliced onions and garlic. Sauté gently until golden. Add a pinch of sugar – not for taste, as these onions are truly sweet – but to glaze the onions a bit. Add a little flour and stir until flour has been absorbed into the butter, creating a hint of roux. Slowly add the chicken broth, stirring as you pour it on to the onion mixture. Simmer for about thirty minutes.
Stir the Brie into the soup so that it blends into the ingredients. (This is obviously optional – Given an opportunity I would put Brie in everything!)
Meanwhile lightly toast slices of bread with a bit of garlic butter and Parmesan cheese on top. Set aside.
Grate the Gruyere cheese. Transfer your soup into French Onion Soup Bowls, add the toast, and cover with Gruyere cheese.
Put under the broiler until the cheese melts and begins to bubble. Serve immediately with grated Parmesan cheese.
Nancy Ellison, award winning photojournalist and celebrity portraitist, has authored fourteen books of photographs, including "Romeo and Juliet: The Love Story in Dance" and "Starlet". Her newest book, "Wagner's Eternal Ring" was published in September 2010 by Rizzoli.