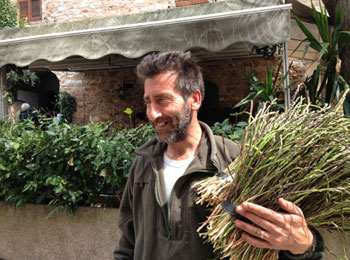 When Italians bid you goodbye between the hours of 11:00 in the morning and 1:00 in the afternoon, rather than saying, "See you around" or "Have a nice day," they say "Buon pranzo," which is a wish for you to have a good lunch. There's the difference right there.
Lunch is the uppermost thought — not just that you'll have lunch but that it will be a good one, seated at a table, with the proper water and wine. You'll take time; you'll have a few courses. And because you're in Italy you won't overeat or drink because that would not present a bella figura, which is so important to these splendid people.
Perhaps the explanation for the superior quality of Italian food is that for centuries there's been an eager, appreciative audience expecting it — demanding it — at every meal.
Allora. After hunting for the elusive asparagus — sometimes on our knees — and coming up with barely enough to put into a dish of pasta, we ran into this guy on the street in Spello, which is a beautiful town just up the road from us.
Asparagi for everybody!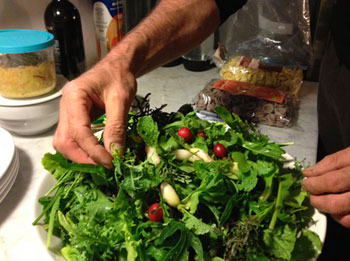 Last night we had dinner at Martin and Karen's house. Here's the view from their terrazza. The walled town is Campello Alto, which overlooks the Spoleto Valley.
Martin served salad from his garden to start the meal. Every leaf, sprig and bulb — of which there were at least ten or twelve varieties — comes from the same family — rucola or arugula in the English.
Who knew?
It was the tastiest (and freshest) salad I have ever eaten, filled with spicy, peppery, mustardy greens and shocking radishes.
Buon pranzo!
Michael Tucker is an actor and author whose recent novel is "After Annie
." He writes about his love of food on his blog Notes from a Culinary Wasteland.