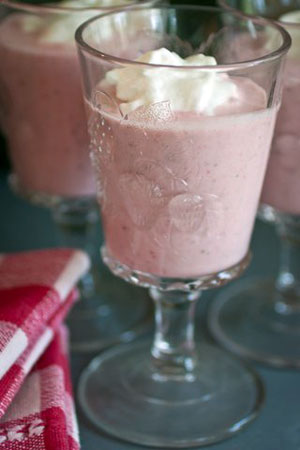 So strawberry season is upon us. These sweet treats have been zipping up I-75 from Florida for a while now and Middle Georgia's very own crop is coming!
Places such as Lane's has a strawberry patch and, well, if by chance one finds themselves pickin' in the patch, one might as well stay for ice cream! Since spring is upon us, let us enjoy the fruits of the season!
What a perfect name for a lovely drink! Taking the fiery redness of strawberries and blending it with the calming color of cream, one will find the most beautiful pink drink to serve your friends and family.
When strawberry season is at its peak, this drink is fabulously delicious. Serve with a dollop of whipped cream and you have strawberries and cream in a drink!
They say gentlemen prefer blondes… well, this gentlemen will take this Strawberry Blonde any day!
Strawberry Blonde
2 cups of strawberries, tops removed
1 cup of milk (I use 2%)
3 cups of heavy whipping cream (for drink and garnish respectively)
¼ cup of powdered sugar
1 teaspoon of good vanilla
Blend strawberries, milk, 1 ½ cups of cream, sugar, and vanilla together until fluffy and smooth. Add ice to the blender for slush.
James T. Farmer III was born and raised in Georgia, where he continues to live and work as a landscape designer. He shares his love of food, flowers and photography on his blog All Things Farmer.