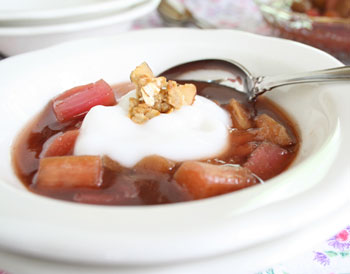 Bemidji's Natural Choice Farmers Market opened for the season yesterday. I was there with my market bag, filling it with fresh butter lettuce, baby turnips, green onions and beautiful rosy red radishes. Oh, and I can't forget the homemade bread.
I spotted long, slender stalks of rhubarb, too. I didn't need to buy that, though. A friend supplied me with several pounds of beautiful rhubarb, one of my favorite vegetables of spring.
Vegetable, you ask? Yes. As Kim Ode, author of the recently published cookbook, "Rhubarb Renaissance," explained in a class she taught at Byerly's in St. Louis Park last week, since we are accustomed to using rhubarb in desserts sweetened with sugar, we think of it as a fruit. In fact, it is a vegetable that was first used for medicinal purposes centuries ago.
Other things I learned about rhubarb from Ode:
Rhubarb is almost 95% water. It's not necessary to use a lot of liquid when cooking the tart vegetable. It releases moisture as it breaks down during the cooking process.
To make an eye-pleasing batch of rhubarb sauce, stir in a tiny bit of red food coloring paste.
Although the combination of rhubarb and strawberries is classic (I still have dreams about my grandma's strawberry-rhubarb pie), it's become a little tired. Ode suggests stepping out of the traditional rhubarb (dessert) box and exploring new flavor combinations that result in savory appetizers, salads, side dishes and entrees. She offers many savory rhubarb recipes in her book.
I never buy rhubarb. Rhubarb is a lot like zucchini — people who have it growing in their garden usually have plenty to give away. Some years I must work harder than others to find a source for my favorite spring and early summer vegetable. If all else fails, I buy it at the farmers market.
When I have a generous amount of rhubarb, I use some of it to make Roasted Honey-Glazed Rhubarb Sauce. Roasting rhubarb in the oven brings out its flavor and allows it to hold its shape. When chunks of rhubarb are cooked on the stove, it breaks down and becomes a stringy compote.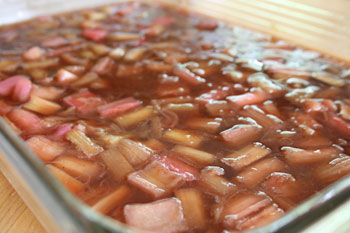 This time, I added some pomegranate molasses to the sauce as it cooled in the baking dish. That's another tip I gleaned from my time in Ode's rhubarb class. Pomegranate molasses, often used in Middle Eastern cooking, is a thick, slightly sweet syrup that adds a sophisticated depth of flavor to rhubarb sauce. Pomegranate molasses is stocked in most supermarkets these days. I found my bottle in the section with all of the syrups.
Honey sweetens the juicy rhubarb as it spends time in the oven. Adding pomegranate juice to the baking dish enhances the color of the sauce and helps create deliciously syrupy juices. A split vanilla bean added to the roasting dish contributes luxurious mellow creaminess to the mouth-watering sour-fruity rhubarb.
I use a little cornstarch to barely thicken the sauce as it bubbles in the oven. If you like a thicker sauce, use an additional teaspoon or two of cornstarch.
Just as rhubarb itself, Roasted Honey-Glazed Rhubarb Sauce is versatile. Spoon it over angel food cake or pound cake. Eat it for breakfast with yogurt and granola. It makes a delicious topping for ice cream, pancakes and waffles.
It's traditional rhubarb sauce with a twist — definitely not tired.
Roasted Honey-Glazed Rhubarb
2 pounds trimmed and washed rhubarb, cut into 1-inch pieces (it will measure about 7 1/2 cups)
3/4 cup honey, preferably local
1/2 cup pomegranate juice plus 2 tablespoons
1 teaspoon cornstarch
3-inch piece vanilla bean, split open down center
3 tablespoons pomegranate molasses
Preheat oven to 350°F.
Place rhubarb pieces in a large mixing bowl. Add honey and stir until rhubarb is completely coated with honey. Add 1/2 cup pomegranate juice and stir. Dissolve cornstarch in remaining 2 tablespoons pomegranate juice. (I do this in a custard cup and use my clean finger to mix it up.) Add the cornstarch mixture to the mixing bowl and stir until it is blended evenly into the rhubarb mixture.
Dump rhubarb mixture into a shallow glass baking dish. A 13- x 9-inch baking dish works well. Push the split vanilla bean into the mixture.
Bake in preheated 350-degree oven for about 25 minutes, gently stirring every 10 minutes. Mixture should bubble and begin to thicken slightly. Rhubarb should be very tender.
Remove dish from oven. Add pomegranate molasses and gently stir to blend. Allow mixture to cool in dish at room temperature. Store, tightly sealed, in refrigerator. Makes about 4 cups.
Tip from the cook
Add a sprig of fresh lemon thyme to the roasting rhubarb for lovely aroma and flavor.
Sue Doeden is a popular cooking instructor, food writer and integrative nutrition health coach. She is the host of Good Food, Good Life 365 on Lakeland Public Television. Her own hives full of hardworking bees and her love of honey led to the creation of her recently published cookbook, Homemade with Honey.