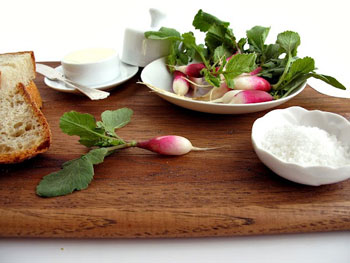 This really isn't a recipe—it doesn't even involve cooking or assembly. It's just a few simple ingredients brought together in a perfect way: radishes, butter, and salt. Most people don't give radishes a second thought mainly because they don't eat them. As I've shown in recipes before and will show this week, radishes can be made into many different dishes with ones that are even cooked. But the absolute best way to eat them is with just a little salt and butter.


Radishes are a very humble vegetable, so you would never expect to eat them anywhere but home, let alone find them served at a high-end restaurant. But a few years ago at ABC Kitchen I was served radishes with salt, bread, and butter.
I couldn't believe my eyes because it was such a simple presentation but a very effective one that truly represented the restaurant's "green" objective very clearly—it was all about the fresh produce. Besides all the wondeful dishes I enjoyed that evening, the radishes really stood out in my mind and memory—it's why I'm writing about them now.
Radishes with Butter and Salt
1 bunch French breakfast radishes
French sea salt
unsalted butter, softened
rustic country bread, sliced
Assemble ingredients on a tray or platter and serve.
Joseph Erdos is a New York–based writer and editor, but above all a gastronomer and oenophile. He shares his passion for foodon his blog, Gastronomer's Guide , which features unique recipes and restaurant reviews among many other musings on the all-encompassing topic of food.