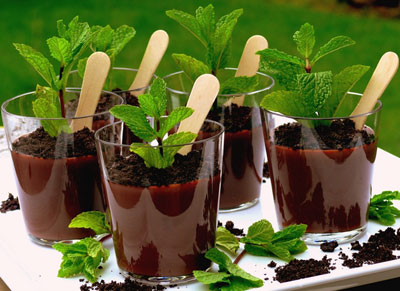 These mini mint puddings sprout to life with their mint seedling growing out the top and ground-cookie dirt sprinkled on the surface.

What a great way to celebrate Spring with these cleverly disguised desserts. Pour pudding into votive candleholders and serve with wooden "plant marker" spoons.
Perfect for April Fool's Day!

The kids will love these but so will adults. You can easily use your favorite recipe, adding mint extract at the end or try this one, it's delicious!

Potted Chocolate-Mint Puddings
From Martha Stewart

1/4 cup plus 2 Tablespoons sugar
3 Tablespoons cornstarch
1 Tablespoon plus 1-1/2 teaspoons unsweetened cocoa power
Salt
1-1/4 cups heavy cream
1-1/4 cups whole milk
1/2 teaspoon pure vanilla extract
6 ounces semisweet chocolate, chopped (1 cup)
1/2 teaspoon pure mint extract
1 Tablespoon plus 1-1/2 teaspoons unsalted butter, cut into small pieces
10 chocolate wafer cookies
Garnish with sprigs of mint

Whisk together sugar, cornstarch, cocoa and 1/8 teaspoon salt in a medium saucepan. Combine cream, milk and vanilla in a liquid measuring cup.

Pour 1 cup cream mixture into sugar mixture and whisk until cornstarch is dissolved. Add remaining cream mixture and whisk until smooth. Bring to a boil, whisking constantly, and cook until thick, about 5 minutes. Reduce heat to low and add chocolate. Whisk until chocolate melts, about 1 minute.

Remove from heat. Add mint extract and butter, and whisk until butter melts. Quickly divide pudding, whisking as you work to prevent sides from setting up, among eight 4 ounce glass votive candle holders, leaving 1/2" of space at the top. Refrigerate until set.

Just before serving, pulse cookies in a food processor until finely ground. Top each with 1 Tablespoon ground-cookie "dirt," and garnish with a planted mint sprig. Serve chilled.
Cathy runs a vineyard and winery in the Willamette Valley of Oregon. She is a food writer for Davis Life Magazine and blogs daily about wine, food and everyday living. She lives with her husband and two sons. You can visit her at noblepig.com.