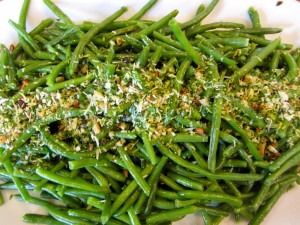 Whether making a holiday meal or just a quick weeknight supper, finding a veggie side dish that packs a flavorful punch without a lot of fat or calories (and little effort or clean-up) is sometimes a mystery….so here's one of my favorites: Oven Roasted Haricot Vert with Pistachio and Parmesan Gremolata.
Always skinny when naked–about 40 fat free calories per cup–Haricot Vert are simply very slender green beans that are loaded with nutrition.
But even in California, truly fresh haricots vert aren't always easy to find...so, more often than not, I use the frozen ones that are available year 'round and don't require blanching before roasting. (By the way, if you keep the frozen ones on hand, you're likely to make them more often!)
And by sprinkling your beans with a rich but healthy Gremolata–a minced seasoning of parsley, garlic, lemon zest and a pinch of Parmesan and nuts–this quick and easy veg will have much more texture and flavor than any simple green bean dish…but with little extra work.
Voila! Side Dish Solved!
OVEN ROASTED GREEN BEANS WITH PISTACHIO AND PARMESAN GREMOLATA
True gremolata is simply lemon zest, minced garlic and parsley that was traditionally served with rich meat dishes. But many chefs now use gremolata enriched with oil and pignolias (pine nuts) to accompany veggie dishes. I like to skip the oil (120 calories a tablespoon) and use pistachios, which have the lowest calorie count of all tree nuts (at about 40 a tablespoon) and are also a great source of potassium. And I sometimes add walnuts, a great source of omega 3 fatty acids. Use any nuts you like, just remember to use only 2 tablespoons to keep the calorie count in check.
2 T pistachios, walnuts, pine nuts or a combination, toasted
1 T minced garlic
2 T lemon zest (from 2 lemons)
2 T grated Parmesan
3 T minced parsley
1 lb frozen Haricot Vert (French Green Beans), rinsed and patted dry
1 t olive oil
1/2 t salt
Preheat oven to 425d degrees F.
Rinse frozen haricot vert in a colander, shake well and put on paper towels to remove most of the moisture.
Place whole nuts on a baking sheet or a piece of foil and roast, shaking once or twice, for 4 to 5 minutes. Remove nuts to a cutting board and chop fine.
Immediately mix warm chopped nuts with minced garlic, lemon zest, Parmesan and parsley. Set aside.
Place damp green beans on the baking sheet and toss with 1 t good olive oil and salt. Slip into oven and roast, shaking pan once or twice, for 8-12 minutes.
As soon as beans are done, squeeze a bit of lemon juice on them, top with the gremolata and serve.
After 25 years as a local and network anchor, Lisa McRee was just another American mother struggling, and failing, to lose weight. Finally, she cracked the code, and lost 30 pounds, quickly and for good, by doing what she loves: reporting, cooking and eating! Visit The Skinny to see how she did it.