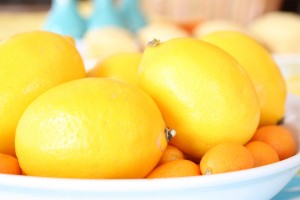 Spying bright yellow Meyer lemons in the refrigerated produce case at my local natural food co-op never fails to give me a lift. This occurrence usually takes place in March, my least favorite month of the year in northern Minnesota with its dull gray skies, dirty slush, and sometimes, snowstorms that, by this time, no one wants to experience.
I grabbed several Meyer lemons last week, brought them home and arranged them in a shallow white bowl with the kumquats that also came home with me.
After enjoying their burst of brightness in my kitchen for a couple of days, I knew it was time to use them up. I was ready to make some little tea cakes, tiny loaves infused with the juice of Meyer lemons.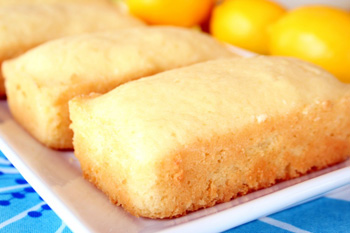 The Meyer lemon, named for Frank Meyer, the man who brought them to the United States in 1908, is believed to be a hybrid between a lemon and a mandarin orange. In general, they're much sweeter than regular lemons, and they have a complex citrus taste that comes from their mandarin/orange lineage. Meyer lemons are grown commercially in California, Texas, and Florida. They are a challenge to ship and store commercially, so to be able to buy them in Bemidji, Minnesota is a special treat.
Earlier this month when I attended the Minnesota Monthly Food & Wine Show, I brought home a small gift bag from Forepaugh's Restaurant in St. Paul, filled with treats that Chef Donald Gonzalez had designed: Cinnamon Tea Cake, Evening in Missoula Herbal Tea and Ames Farm Honey. It was a darling and very generous gift from Forepaugh's.
I saved the little gift bag to give to a friend who wasn't able to attend the show. One problem. The dainty tea cake became hard as a rock before I was able to deliver it to my friend.
So, I pulled out the mini-loaf pans that I bought years ago when I made a choo-choo-train birthday cake for one of my sons. They measure 4 3/4 inches x 2 3/4 inches at the top. They hold 1 cup of batter when filled to the top. With this batter, 1/2 cup does the trick.
The batter for Meyer Lemon-Honey Yogurt Tea Cakes is enough to make 6 of these mini-loaves plus 1 small Bundt cake baked in a 6-cup capacity pan or use all of the batter to bake one cake in a conventional Bundt pan.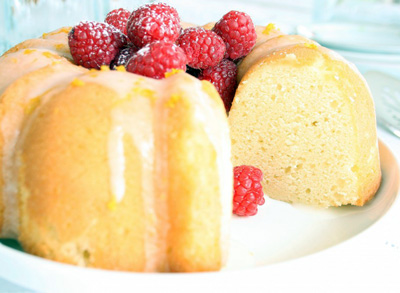 I wrapped up one of the delicate loaves of Meyer Lemon-Honey Yogurt Tea Cake and tucked it into the Forepaugh's gift bag with the tea bag and the vial of honey. I'm quite sure Chef Gonzalez wouldn't want me to share the treat bag holding a dried up Cinnamon Tea Cake. I did explain to my friend that the cute little loaf was not a Forepaugh's original.
This cake is so perfect for a Spring brunch, dusted with powdered sugar and offered with fresh berries. Or, drizzle the cake with Meyer Lemon Glaze and serve it for dessert.
Made with two of my favorite things, Meyer lemons and Greek-style honey-flavored yogurt, this sweet cake is a light melt-in-the-mouth dessert that will take you through every special celebration you have planned, Spring through Summer.
Meyer Lemon-Honey Yogurt Tea Cake
3/4 cup butter
2 cups granulated sugar
4 large eggs
3/4 cup Greek-style Honey-flavored yogurt
2 tablespoons grated Meyer lemon zest
1/3 cup freshly squeezed Meyer lemon juice
1/2 cup milk
3 cups all-purpose flour
2 teaspoons baking powder
Preheat oven to 325 degrees. Grease a 10-inch Bundt pan and set aside.
Cream butter and sugar until light and fluffy, 8 to 10 minutes. (This is where a stand mixer is handy.) Add eggs, one at a time, beating well after each addition. On low speed, add yogurt and Meyer lemon zest. Combine Meyer lemon juice and milk. Sift flour and baking powder together. Add dry ingredients to batter in mixing bowl, alternately with liquid mixture, beginning and ending with dry ingredients. Mix just until all ingredients are blended together. Pour batter into prepared Bundt pan. Bake for about 1 hour or until cake tests done. Cool in pan 10 to 15 minutes. Invert onto cooling rack. Cool completely.
When cake is cool, drizzle with Meyer lemon glaze, if desired.
Slice and serve. Makes 16 servings.
Meyer Lemon Glaze
1 cup sifted powdered sugar
1 to 2 tablespoons freshly squeezed Meyer lemon juice
In a small bowl, mix enough juice into the powdered to create a consistency that will drizzle and flow over the cake.
Tip from the cook: Oh, yes, if you don't have access to Meyer lemons, use regular lemons with satisfactory results.
Sue Doeden is a popular cooking instructor, food writer and integrative nutrition health coach. She is the host of Good Food, Good Life 365 on Lakeland Public Television. Her own hives full of hardworking bees and her love of honey led to the creation of her recently published cookbook, Homemade with Honey.