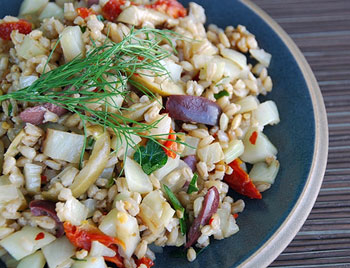 Cashier: Picking up the two fennel bulbs I was buying and examining them. "Do you cook with fennel a lot?"

Me: "Oh, yeah. All the time."

Cashier: "I've always wondered what to do with it. It just looks so cool, you know?"

Me: "Oh, I can give you lots of idea about how to cook with fennel. You could put it in salads or saute --"

Cashier: Waving the hands as if she were trying to stop traffic, she interrupted, "Oh, no, no! I don't want you to tell me. I won't actually do it. I've just always wondered."

In case you're wondering about fennel bulb, it's actually an herb that has been enjoyed since antiquity. When eaten raw, you'll appreciate its crunchy, refreshing celery-like texture and sweet licorice flavor. When sauteed or roasted, you'll find it morphs into something more savory, with an earthy depth of flavor. It gets along well with many ingredients but has a special affinity for citrus fruits, figs, olives, nuts, and hard cheese like Pecorino Romano and Parmesan. And those feathery fronds? They're edible too. Toss them in your salad or munch on them as a digestive aid.
Warm Barley and Fennel Salad
Makes 6 servings.
1 cup barley
2 1/2 cups water, or as much as needed
2 teaspoons olive oil
1 large or 2 small fennel bulbs, diced
12 sun-dried tomatoes, thinly sliced
12 olives, such as Kalamata and Cerignola, pitted and thinly sliced
3 tablespoons lightly toasted, chopped walnuts
2 tablespoons extra virgin olive oil
1 tablespoon plus 1 teaspoon white balsamic vinegar
2 teaspoons water
1 tablespoon plus 1 teaspoon lemon juice
1/4 teaspoon lemon zest
1/4 cup fresh parsley, thinly sliced
1/2 teaspoon crushed red pepper flakes
salt, to taste

In a medium saucepan bring water to a boil. Add barley; return to a boil for 2 minutes, then reduce to low, cover partially, and cook for 15-20 minutes, or until tender. If water evaporates, simply add a little more.
In a large skillet over medium-high heat, warm 2 teaspoons olive oil. Add diced fennel; saute 5-7 minutes, or until lightly browned and tender, but not mushy.
In a large bowl, add cooked barley, fennel, sun-dried tomatoes, olives, and walnuts; toss lightly until well blended.
In a small bowl, whisk olive oil, balsamic vinegar, water, lemon juice, lemon zest, parsley, crushed red pepper, and salt. Pour over the barley mixture and toss until well coated. Taste it and adjust seasonings accordingly. Garnish with additional fresh parsley, if desired.
Enjoy this salad warm, at room temperature, or chilled. It tastes even better after a day or two and makes excellent leftovers.
Susan Russo is a free lance food writer in San Diego, California. She publishes stories, recipes, and photos on her cooking blog, <Food Blogga and is a regular contributor to NPR's <Kitchen Window. She is also the author of Recipes Every Man Should Know
and The Encyclopedia of Sandwiches
.