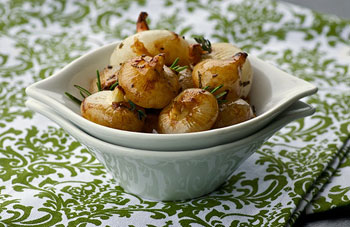 Onions have their place. I wouldn't dream of starting a marinara sauce without sauteed shallots. Nearly every soup I make starts with sauteed brown onions. Red onions enliven fruit salsas, and scallions add depth to guacamole. And let's face it, a bratwurst without grilled Vidalia onions is a crime.
What about cippoline onions? Believe it or not, they've never even visited my kitchen, that is, until a few weeks ago. Now, they're nestled in the onion basket alongside my beloved shallots and brown onions.
Why this sudden change of heart toward cippoline onions? It's because of Frieda. I'm unable to resist her charms, and if you taste her cippoline onions, you'll find yourself equally captivated.
These cippoline onions are from Frieda's Inc., The Specialty Produce People. I've had the pleasure to do some recipe development with Frieda's and have tasted many of their products from onions and potatoes to pine nuts and dried cranberries. The cippoline onions are wonderful.
Cippoline onions which look like little flying saucers are naturally sweeter than most onions, and roasting them only enhances their sweetness. In the recipe below, the contrasting flavors of tangy vinegar and sweet sugar add depth of flavor while the fresh rosemary lends fragrance and earthiness. Serve these balsamic roasted cippoline onions with roasted pork tenderloin, grilled steak or chicken, or even a bowl of wild rice for a hearty vegetarian entree.
Then make some room in your onion bowl for the cippoline onions you'll be buying next time you're at the supermarket.
Balsamic Roasted Cippoline Onions
Makes 4 servings
Printable recipe.
1 pound cippolini onions, preferably from Frieda's Inc.
1 tablespoon olive oil
3 tablespoons balsamic vinegar
1 teaspoon light brown sugar
1/2 tablespoon finely chopped fresh rosemary
A couple of pinches of salt and freshly ground black pepper
1. Position a rack in the center of the oven and preheat to 350 degrees F.
2. To easily remove the onion skins, cut a small x in the bottom of each onion. Place onions in a pot of boiling water for 2 minutes. Drain and plunge in a bowl of cold water for 2 minutes. Then the skins will easily slide off with even the gentlest nudge. Scouts honor. Place onions in a large glass or ceramic baking dish.
3. In a small bowl, whisk olive oil, balsamic, brown sugar, rosemary, salt, and pepper. Pour over onions and toss to coat. Cook 40 to 45 minutes, turning a couple of times, until the onions are browned and tender and the sauce thickens and becomes bubbly.
Susan Russo is a free lance food writer in San Diego, California. She publishes stories, recipes, and photos on her cooking blog, <Food Blogga and is a regular contributor to NPR's <Kitchen Window. She is also the author of Recipes Every Man Should Know
and The Encyclopedia of Sandwiches
.