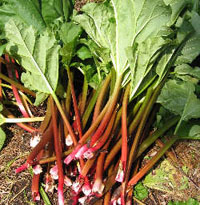 As Spring slowly arrives in Maine and the snow stubbornly retreats, I push back the compost covering my rhubarb patch that has been growing for as long as I can remember. The day is sunny and kinda' warm, what that means around here is, the mid fifties.

The air smells alive, the birds are flying happily and my rhubarb is poking through the winter protective covering. With the spring rain it will grow at lightning speed and keep growing as I madly pull at it to make many Spring and early Summer treats.

In my house this is the first pie of the year and the first food out of our garden, making us dream of what pies lie ahead, small sweet strawberries, fragrant raspberries and mounds of wild Maine blueberries. But today we "make do" with rhubarb....

The pie crust:

2 cups flour
2 sticks unsalted butter
1/2 teaspoon kosher salt
1/2 cup ice cold water

The pie filling:
6 cups rhubarb, cut into 1 inch chunks, pick the most red stalks available
1 tablespoon freshly grated orange rind
1½ cups sugar or to taste
3 tablespoon flour
1 cup heavy cream
1/2 teaspoon vanilla
1 fresh egg yolk
pinch of salt

In a food processor combine flour and salt, pulse three times. Add ice cold butter that you have cut into small chunks. Pulse till the butter is combined into the flour and the butter pieces are the size of your thumb nail. Add ice cold water and pulse till a ball of dough STARTS to form. Stop, remove from the machine and wrap in plastic wrap, refrigerate for at least 2 hours or overnight.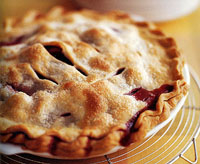 This will let the dough relax and make the texture flaky. Cut the dough into 2 pieces. Roll out half the dough while the other half waits in the refrigerator. Roll large enough to fit in a 9 inch glass pie plate with an inch or two overhanging the edge.

For the pie filling:
Beat egg yolk and flour into the heavy cream, add pinch of salt, vanilla and orange rind. Combine rhubarb and sugar and set aside for 20ish minutes till the juices are drawn out of the rhubarb.
Combine rhubarb mixture with the cream/yolk mixture. Immediately put into the pie dish, roll out the top crust, make vent holes and place into a preheated oven on the middle rack. Start baking at 375°F for 10 minutes and than turn down heat to 350°F and bake until golden and luscious. About 45 more minutes.