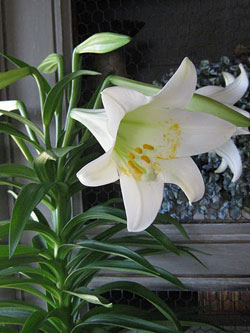 Filling our churches and homes during Easter, one of my favorite lilies is the Easter Lily (Lilium longiflorum). Once your Easter Lily has spent its time indoors, release it to the great outdoors and have those white, heavenly scented blooms for years to come. A sunny, hearty soil combo and good drainage will give your lily a nice garden home.
A bit of history on these fascinating flowers…Christian tradition tells of these purest of white blossoms springing up in the Garden of Gethsemane where Jesus sweat His drops of blood. Sometimes referred to as Madonna Lilies, Gabriel handed Mary a bouquet of white lilies at the Annunciation, thus further enriching this flower's history.
As for the herbaceous side of lily growing, Daylilies, many of which are repeat bloomers, can be the gardener's prized blooms in late spring and early summer. One of my favorite varieties is 'Yangtze,' like river in China. So many Asian plants have Southern cousins and adapt well to the Deep South climate because of similar latitude lines with the Far East. This daylily in mention is a repeat bloomer, evergreen, fragrant, and the purest yellow. By a repeat bloomer, I mean this plant blooms again at least one time past the typical bloom time.
Once in the spring, summer and fall, for this little dynamo and it is a show stopper with each session of blooms. Many other species and cultivars of daylilies bloom in this fashion and I recommend experimenting with colors and bloom times that satisfy your gardening lifestyle.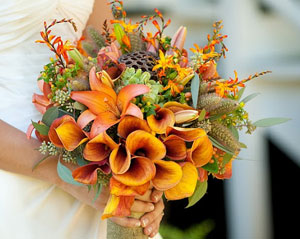 Besides being knockouts on the perennial stage, these fast growing, eager blooming, and reliable plants are great to share with friends, divided and spread around the garden, and even entertaining, for every part of the daylily is edible. An Asian delicacy is stir fried daylily!
Daylilies, as do avid growers of roses, camellias, dahlias, and many other plant specimens, host contests and shows displaying their finest blooms. Visit these garden shows and learn about specifics of the plants in show. These garden shows are reminiscent of fairs and festivals across the Deep South and of a group of gardeners who know how to fuse gardening and its intrinsic rewards – decorating, entertaining and cooking.
"Consider the lilies of the field…" Consider them, plant them, and use them in and a part of garden living.
James T. Farmer III was born and raised in Georgia, where he continues to live and work as a landscape designer. He shares his love of food, flowers and photography on his blog All Things Farmer.