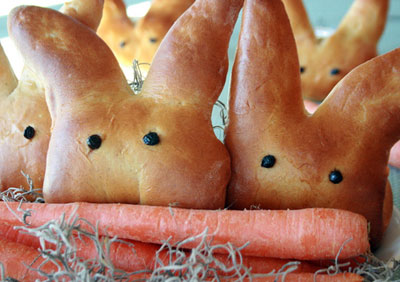 I made hot cross buns last week. I used a recipe from a class I took years ago that focused on breads and rolls made with yeast dough. The sweet, egg- and butter-rich buns have mashed potatoes worked into the dough. I've got to believe it's the potatoes that produce a soft, moist dough. Hot cross buns are an Easter tradition in many homes.
When I was doing some research on hot cross buns, Google directed me to JustHungry, a food blog I'd never visited. There I found some cute Hot Cross Easter Bunny Buns. Made of the same dough that the author used for her hot cross buns, they were shaped with chubby little faces and long bunny ears. Best of all, the author included step-by-step photo instructions, from rolling the dough, to creating the ears and faces.
I knew I had to try making the little bunny buns myself. With one batch of dough, I was able to create 12 Breakfast Bunny Buns. Each one came out of the oven with its own charm. The ears were long and funny, some pointing straight up, some a little bent and some a bit uneven. Their little currant eyes made them simply irresistible.
I pulled the Breakfast Bunny Buns out of the oven in the middle of the afternoon. As soon as they were cool enough to pick up, I ate two — with butter. You know how good fresh bread tastes when it's still warm from the oven. These Bunny Buns are no different. A friend happened to be over when the Bunnies were warm. She ate one and took one for her niece. The bunnies were going fast. Luckily, I was able to get a picture before all those little bunnies were devoured.
These sweet Breakfast Bunny Buns would be a perfect choice to serve with Easter breakfast or brunch. They can be made up to a week before Easter. As soon as they are cool, seal them up tight in a freezer bag or container and store in the freezer. To serve, thaw and warm them up slightly in a microwave oven. Be careful. Bread that is overheated in the microwave will get tough.
Breakfast Bunny Buns make a nice gift, too. And for your favorite children, nestle individual Bunny Buns into small plastic or cellophane bags with some Easter grass. Tie the bag up with a pastel-colored ribbon. Darling little edible gift.
Celebrate Spring and Easter with Breakfast Bunny Buns. They don't hop, but they do quickly disappear.
Breakfast Bunny Buns
½ cup warm water (105 to 115 degrees)
2 (1/4-ounce) packages active dry yeast
½ cup warm milk
½ cup sugar plus 1 teaspoon
2 eggs, beaten
1¼ teaspoons salt
½ cup butter, softened
¾ cup unseasoned mashed potatoes
2 teaspoons cinnamon
1/2 teaspoon nutmeg
4½ cups all-purpose flour
24 dried currants or raisins for bunny eyes
Sprinkle yeast over ½ cup warm water. Add 1 teaspoon of the sugar. Use a small whisk to stir the mixture. Set aside and allow the yeast to bubble and grow. It will get foamy.
Pour warm milk into a large mixing bowl. Add yeast mixture. Stir in ½ cup sugar, eggs, salt, butter and mashed potatoes. Add 1 cup of the flour along with the cinnamon and nutmeg. Beat with a wooden spoon. Gradually add more flour until dough begins to pull together into one mass. It will be a little sticky. Sprinkle some of the flour you have measured out onto your work surface. Place the dough on the floured surface. Turn the mixing bowl upside down over the dough to cover.
While dough is resting, line baing sheets with parchment paper or silicone baking mats. Grease another large mixing bowl and set aside. Use your fingers for this job. Then, rub greasy fingers together to lightly coat your hands. This will make it easier to work with the dough.
Dust your slightly greasy hands with flour and knead the dough for 8 minutes, sprinkling the work surface with a little more flour as needed. Form the dough into a ball. Place in the prepared mixing bowl. Then, turn the ball of dough over so the greasy side is up. Cover with plastic wrap and allow to rise until double in size, about 1½ hours.
Punch dough down and divide in two equal pieces. Cut each half of dough into 6 equal pieces. Roll each piece into a long, thin oval shape. Fold the bottom edge of the dough up about 1/3 of the way over the piece of dough. Use a sharp knife or dough scraper to cut a long slit through the middle of the top of the oval, forming bunny ears. Gently pick up the tips of the ears and pull them toward you, covering the double layer of dough. Now, the ears will be pointing down.
(Check the step-by-step photos at JustHungry. They are very helpful.) Pick up the bunny bun and place it on a prepared baking sheet. Continue this process with the remaining pieces of dough, forming 12 bunny buns. Cover bunny buns with a clean kitchen towel and allow to rise for 30 minutes, or until almost double in size. Brush with egg yolk glaze. Place currants on each bunny to form eyes. Bake in preheated 375-degree oven for 12 to 15 minutes. Remove from baking sheets and place on wire racks to cool. Makes 12 Breakfast Bunny Buns.
Egg Yolk Glaze
Whisk 1 egg yolk with 2 tablespoons cold water. Brush over buns just before baking.

Sue Doeden is a popular cooking instructor, food writer and integrative nutrition health coach. She is the host of Good Food, Good Life 365 on Lakeland Public Television. Her own hives full of hardworking bees and her love of honey led to the creation of her recently published cookbook, Homemade with Honey.