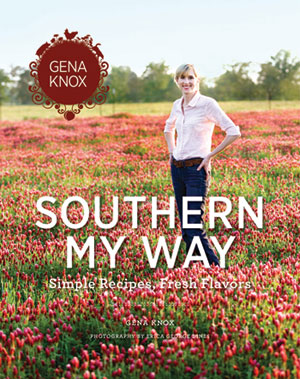 Modern Southern is a bit of an oxymoron. Anything "Southern" tends to have old-fashioned built into it. Gena Knox, however, embodies "modern Southern," and her new cookbook "Southern My Way
" echoes that. I mean look at that cover photo. Well-dressed, coiffed and poised. Modern Southern! Modernity aside her cookbook covers all the Southern classics albeit often updated. Which I think is nice. Too many Southern cookbooks tend to stick to the tried-and-true, the old standbys that everyone is used to.
Knox is a native of a small town in South Georgia. She started helping her mother in the kitchen at a young age. She grew up cooking with fruits and vegetables out of the family's garden, or from local farms and farmers. Home cooking was the norm for the area. "Southern My Way" is her answer to her upbringing: a compilation of traditional Southern dishes updated with a lighter, healthier approach with a focus on using local ingredients. In fact, cleverly interspersed throughout the book are one to two page breakaways that highlight a local artisan, farmer, or purveyor like for instance the pages on Ted Dennard's Savannah Bee Company, a small artisan honey company. As I read through the book I liked more and more that Knox was hitting all the 100 miles touchstones.
Both the cookbook's design and layout are unpretentious yet friendly, easy to use, interesting to read with lots of full-page color photographs throughout. The recipes are easy to follow; one feature that I appreciated is how she breaks up the recipe instructions into sections: first. next. and last. First do this, next do that, and lastly do this. I'd like to see more cookbooks use this formula. I'm a big fan of deviled eggs so one of the first recipes I tried was Deviled Eggs, Bloody Mary-Style. These have sun-dried tomatoes in them. Brilliant idea. I love onions. The Vidalia Onion Soup was so easy to make and so good. Meatloaf can either be really bad or really amazing. Knox's Classic Meatloaf was the latter. To keep things on the healthier side the recipe calls for lean ground beef or sirloin. Another main course I made was Balsamic Roasted Chicken and Vegetables; a one dish meal using a cast iron skillet. It worked very well and was a big success at the dinner table. The book has recipes for many of the Southern standards we all expect: collard greens, grits, cornbread, baked beans, okra — but in most cases Knox reworks the recipe to make it lighter and healthier.
If you're a fan of Southern cooking, enjoy a little Southern food history mixed up with information on local, Southern purveyors and artisans, this is your book. A true gem of a Southern cookbook.
Charles G. Thompson is a Los Angeles-based freelance food writer, whose reviews and stories can be found at his blog 100 Miles, an exploration of local sustainibility.