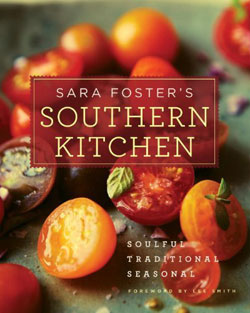 I met Sara a few years ago in the Bahamas and quickly discovered she is the kind of person everyone knows. As the owner of Foster's Market in Durham and Chapel Hill, North Carolina, Sara is the author of several cookbooks and has numerous appearances on Martha's show as well as the Today show. I have yet to make it to her market but in the meantime I'm so happy to have this book. Her latest, Sara Foster's Southern Kitchen
is filled with traditional Southern favorites as seen through Sara's kitchen. It's a book that you can't help but get hungry from just looking at it as it's packed with Southern favorites that I want to eat this very second. All the classics are there with contemporary twists like Shrimp Jabalaya, fried chicken, brisket and spare ribs. Now can you see why I'm all about this book?
Because I'm anticipating summer mode I wanted to try a few things so I could hit the ground running once it warms up a tiny bit. I'm in love with Sara's skillet-fried corn and can only imagine how fantastic it will be when I make it with summer's best corn. Still, even using the corn I used it was still delicious and remarkably simple. Corn, butter, basil, salt, and pepper (plus a few pieces of summer squash and zucchini just like the photo in the book) are so delicious that I really can't wait to serve this outside with some ribs, a few burgers, I can bet it's fantastic with just about anything. And the combination of basil and corn is completely new to me and it's fantastic.
Sara's familiar tone in writing really makes you feel as if you're there and have known her for years, which I love. I also love her glossary of Southern pantry essentials, should you need a brush up. But the thing about Sara's Southern Kitchen that really makes me hungry is the food photography from Peter Frank Edwards. The food is gorgeous, real, and captured in such a way that it truly feels as if you're just sitting down to enjoy a meal with Sara and the family.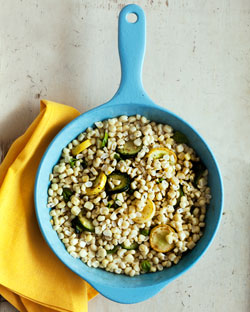 Skillet Fried Corn from Sara Foster's Southern Kitchen: Soulful, Traditional, Seasonal
Shuck 6 ears fresh corn and cut the kernels directly into a bowl. After removing the kernels, hold each stripped cob over the bowl and scrape with the back of the knife to release the juices. Cut 4 fresh basil leaves into thin strips and set aside.
Heat 4 tablespoons (1/2 stick) unsalted butter in a heavy skillet over medium heat until foamy. Add the kernels and their juices, rinse the bowl with ¼ cup water, and add the rinsing liquid to the skillet. Season with sea salt and freshly ground black pepper to taste and cook and stir until the kernels are tender and the liquid thickens, 3 to 4 minutes. Stir in the basil and serve warm.
Matt says: You can add sliced of summer squash and zucchini to this dish for color. It's heavenly. Photo by me.
Matt Armendariz is a writer and photographer who lives in Los Angeles and chronicles his passion for food and travel on his blog MattBites.com.