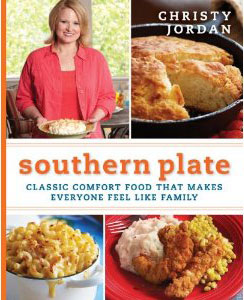 When blogger Christy Jordan founded SouthernPlate.com in 2008, she never dreamed her posts about the classic comfort food she grew up with in northern Alabama would spark an internet frenzy of interest from foodies everywhere. Now, just two short years later, with millions of visits to her site, her blog has grown by leaps and bounds. And with that growth spurt, Jordan is taking the next step in her career as the darling of easy, no-fuss Southern favorites with the publication of her first cookbook, SOUTHERN PLATE.
In preparation for the book's launch, Christy and her family recently sat down with reporter Donna Florio of Southern Living magazine.
Citing the influence of her family, firmly rooted in the Tennessee Valley for the past nine generations, Jordan says that food was always the best way to share both your time and history with loved ones. "When I was a girl, we gathered at my Papa Reed's farm each Sunday…Ladies would arrive in their Sunday best, toting casseroles dishes, cakes, and plate after plate of devil eggs," she reminisced. And it's those recipes, passed along from generation-to- generation, from grandmothers to mothers and their daughters that infuse her notion of what family life is all about.
When discussing her sister-in-law Stacey's "Butterfinger Cake*," Jordan refers to it as the perfect "wow" cake for any gathering. Noting a particular emphasis on recipes that are fast and easy to make, allowing for more time to spend with family, she quips, "We're making food to eat, not build a shrine to!"
With champions ranging from Paula Deen ("This wonderful cookbook made me feel like I was reading something of my own.") to Dorothea Benton Frank ("…turns out to be better than anything my grandmother ever made."), be sure to pick up a copy of SOUTHERN PLATE on October 5th or in advance here.
(We at OFTT wish she would share her Macaroni Salad recipe since we have yet to find one we really like and we bet hers is terrific.)
BUTTERFINGER CAKE
1 box devil's food cake mix
One 14-ounce can sweetened condensed milk
One 12-ounce bottle caramel topping
12 ounces whipped topping
1 Butterfinger bar, crushed
Prepare the cake according to the package directions. Immediately after removing the cake from the oven, poke several holes all over the top with a fork. Mix the sweetened condensed milk and caramel together and pour over the hot cake, spreading it over the entire cake. Cool completely, then chill well. After the cake has chilled completely, spread the whipped topping over the top and sprinkle the crushed Butterfinger bar on top.
Makes 12 servings
Excerpted from Southern Plate: Classic Comfort Food That Makes Everyone Feel Like Family
by Christy Jordan. All rights reserved. No part of this book may be used or reproduced without written permission from William Morrow Cookbooks. An Imprint of HarperCollins Publishers, 10 East 53rd Street, New York, NY 10022.
Seale "Brother" Ballenger is a twenty-two year veteran of the book publishing industry and currently works as Vice President and Group Publicity Director for the William Morrow Division at Harper Collins Publishers. He is the author of HELL'S BELLES: A Tribute to the Spitfires, Bad Seeds, and Steel Magnolias of the New & Old South. Seale, his partner Chris, and their two French bulldogs, Maddie and Petey, live in New York City.