Hoover's closed in early November 2014. We are just devestated and sorry you won't be able to experience this cool dive.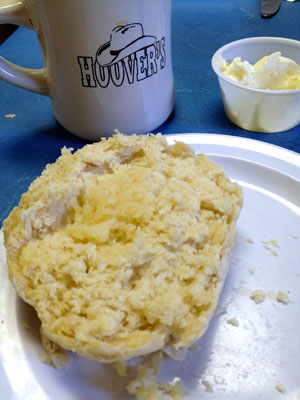 We all have them. Places that make us feel right at home the minute we get there. For us, that place is Paso Robles, CA. We discovered it over a decade ago and still aren't tired of going. Time expands when, we're there. The light is different, the rolling hills of grapevines just speak to us, bringing calm and joy into our usual, urban-crazed lives. We practically consider ourselves natives. Many of our friends up think we are to, we're there so often. We are so pleased with ourselves that we don't need a map anymore and can give directions to strangers. And then it happens. We'll be talking to a friend and will have never heard of the place they're talking about. "What do you mean you've never been to X?" And instantly we feel like mere tourists in their land. It cuts you to the core and, of course, needs to be immediately rectified. That's how Hoover's Beef Palace landed forevermore on our radar.
Despite all the wineries, the Central Coast, and especially Paso Robles, is still cattle country and there's no place that screams beef more than Hoover's, located just south of Paso in Templeton. Hell, the wall's are decorated with local branding symbols and framed 8x10 portraits of all the local Rancher's of the Year. At least that's what I've heard that's who all those dudes staring back at guests are. This is strictly a diner, folks, nothing fancy, open for breakfast and lunch everyday.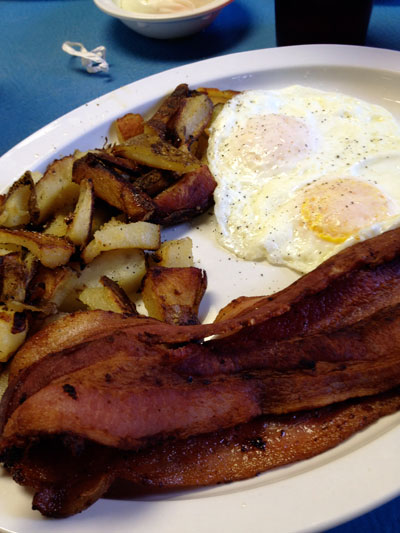 The prices harken back to a better breakfast time when a cup of coffee, 2 eggs, bacon and toast cost under $10 and were served quickly, heartily and without fuss. Hoover's is like "Cheers" for the local farmer set, the waitresses sassy and familiar knowing exactly what most of their customers want before they sit down. The coffee is hot and copious, better than most diner brews. You will not go hungry here. This is the type of place where breakfast will more than tide you over until dinner. A definite first stop if you're planning on wine-tasting all day. This is ballast of the first rank. My order here is always the same: 2 eggs over-easy, pepper bacon and home fries. Oh my God their bacon is so good. Just the right texture - crisp, yet chewy - spicy yet slightly sweet. Yes, I eat all four, very large pieces.
I also cannot resist their biscuits and gravy. Well, half biscuit. Do NOT order a whole. That was my mistake the first time. I thought, "why would anybody only want to eat a half biscuit? What's the point?" Out came the largest biscuit I had ever seen. It took up the entire bread plate. Bigger doesn't necessary make it better or good, but they have it covered. The gravy is perfectly peppery, meaty and creamy and the biscuit has just enough heft to hold together without becoming a giant brick in your stomach.
I wish I could comment on the other menu items, but I just can't. I'm locked in and I don't care. Just think meat, eggs and potatoes and you'll be sure to find something that hits your sweet spot too. I'm pretty sure nothing on their menu will appeal or caters to vegetarians so perhaps they might want to head elsewhere. Hoover's may not be for everyone, but I'll take its straightforward, honest, affordable approach to the most important meal of the day, any day of the week.
HOOVER'S BEEF PALACE: 401 N Main St., Templeton CA 93465 | (805) 434-2114