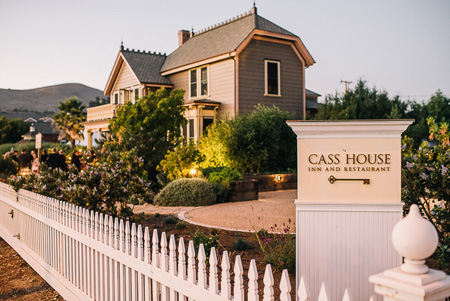 We travel to Paso Robles, which is on the Central Coast of California every other month, sometimes for business, sometimes for pleasure, so I am always looking for new places to eat. The Paso wine region may have over 150 wineries to visit, but the town has only a handful of fine dining options and we've been to all of them many times over the years. When I heard about the Cass House, located in the nearby seaside community of Cayucos, I initially thought it must be affiliated with our friends Cass Winery, but if vineyard owner Steve Cass has any relation to Captain James Cass - who initially built the house-turned inn and restaurant in 1867 - he's going to have to use Ancestry.com to find out.
Despite the lack of a connection, I heard this was a place worth the winding 40-minute drive. The Captain helped found Cayucos and was one of the major players in getting the city on the map. His home was the center of the community in his lifetime, though it fell on hard times in the ensuing years only to be rescued in the mid-1990's by current owners Grace and Jensen Lorenzen. It took them 14 years to restore it to it's current glory which now houses a 5-room Inn and fine-dining restaurant.
They are completely hands on with Grace running the Inn and wine program and Jensen in charge of the gardens and kitchen, which offers locally sourced, seasonally inspired 5-course menus that are imaginative, fresh and taste as good as they look. The dining room seats around 25 people, so the service is intimate, quiet and very, very personal.
The wine program centers on small, local producers with choices by the glass, bottle or a hand-selected wine-pairing with each course, which I can never resist. Who knows the food better than the chef? While I find they are rarely all perfect by going with the chef's choice it pushes my palate outside my usual boundaries and introduces me to pairings and wines I may not have sought out on my own. When you're in good hands, I have no problem handing over the reigns.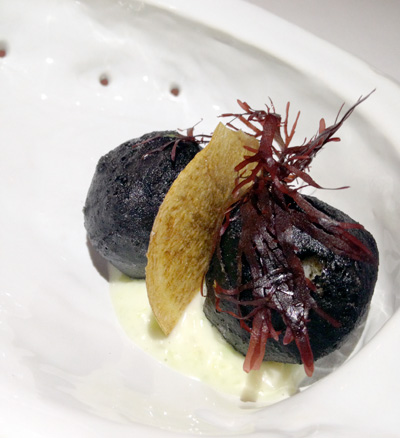 In general, their seasonal menus feature a "Hunter-Gatherer" option and an "Agrarian" option. At our servers recommendation we ordered both, so we could get a chance to try every dish. This is definitely the way to go, since there were items on both sides that I wanted to try. This is a tasting menu more than a "dinner" so the portions are large enough to allow a decent taste, as well as share a few bites with your dining partner while not feeling over-stuffed at the end of it all. Just to make things a bit more interesting, you also get a number of "Complements" which are sort of bite-sized snacks that allows the chef to show-off some clever techniques and flavors to keep your palate engaged between courses. While the food was painstakingly presented it was still comforting and flavorful going down.
My favorite "Compliments" was the "Fish 'N Chips" - fried abalone balls with a crisp chip in the middle served in an actual abalone shell. It's really the first time I've ever enjoyed abalone and the presentation in a beautifully polished shell really set the tone for the whole evening.
While you get to review the menu when you sit down, they take it away once the meal begins. I think this is to get you to not only focus on the dish that's in front of you, but to also allow you to relax into the flow of the evening since I quickly forgot what was coming up. No worries, they explain everything exactly and include all the pertinent info about where the ingredients were sourced, many from their very own garden…without the usual pretension. They live in an area ripe with possibilities and the chef brings both protein and produce to the plate showcasing them to their best advantage.
My second course called "Desayuno" was sort of a play on breakfast for dinner hitting my savory sweet spot with a perfectly placed poached egg yolk on top of mashed potatoes to seem like it was cooked over easy with nice chunk of cabezas fritas and a roasted tomato hidden underneath. So cute, so delicious.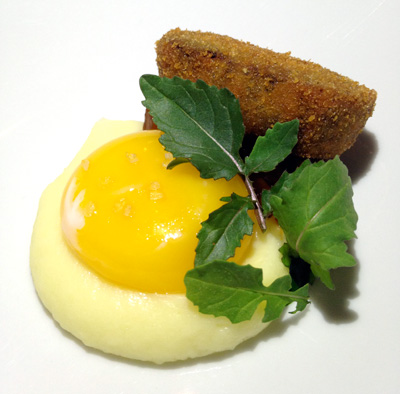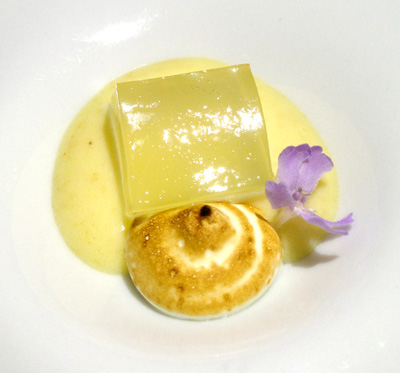 The "Gin Fizz" palate cleanser was a burst of herbal (juniper) and citrus (lime zest) creamy goodness that just melted in your mouth in the best way coming together like a perfect cocktail it was meant to imitate. Really refreshing and intense. A fun way to use molecular gastronomy. It was at this point we impressed / bemused our waiter with our foodie photo taking skills, my husband using the Flashlight app on HIS iPhone to light the food while I took a picture with MY iPhone. So LA and something apparently never seen before in this dining room. Am not sure if I should have been embarrassed, but he didn't seem to mind.
Our third courses were the most creative dishes of the night, both in flavor and texture. Mine was a Bitter Chocolate Ravioli with Yam and Oak Braised Ham. His was sort of a risotto made with Sunflowers Seeds, Dried Berries and Pomegranate arils. The dark brown color of the ravioli was a bit shocking, but when you got a bite of each component it just worked in a sweet, salty meaty combination that was hard to pin down but made you go back for more. The texture of the nuts and berries was a bit too crunchy for me, but I enjoyed the nuttiness and ingenuity.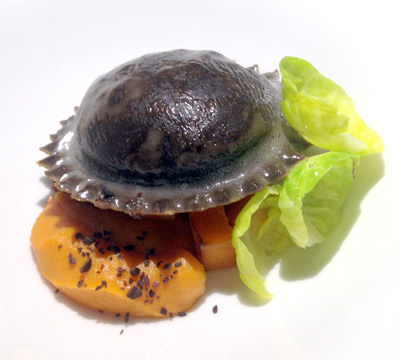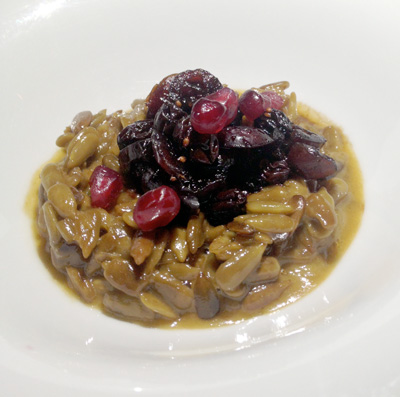 The fourth courses were solid takes on Sea Bass and Pork Loin with the fish dish getting points for looks and the pork winning me over with taste. However, I'm not a giant fish fan, so that was to be expected. It was the husband's favorite of the night. As the final course, these plates were a bit more substantial in size, though they really didn't need to be to be effective.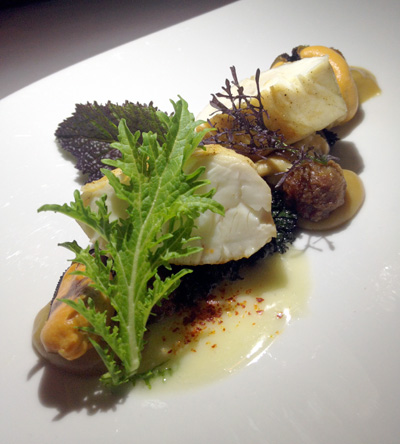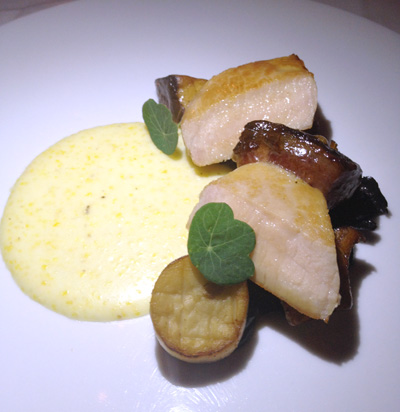 While I am a known cheese whore, I was a bit underwhelmed by my dessert which was a nicely composed plate of Rinconada Dairy cheese with a persimmon madeleine, honey and ginger. It just wasn't cohesive as a dessert and sort of hard to get all of the elements together in one bite. My husband's Squash Spice Cake with Maple Cultured Cream, however, was simply amazing. Thankfully, it was not a very big piece because I would have stolen more than one bite. I rarely eat dessert but this was so well-balanced, spicy and moist. A true high-note to the end of the meal. Well, sort of. Just when you think you couldn't possible eat one more bit, out comes the Thco Chocolate Truffles on a bed of coffee beans. Can you say food coma?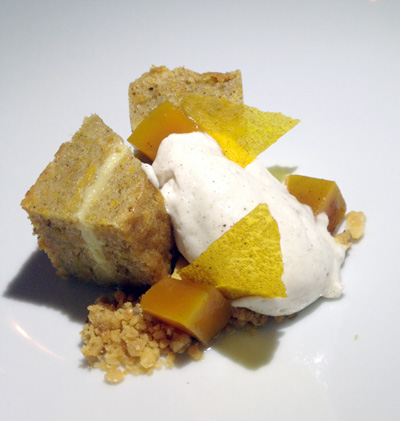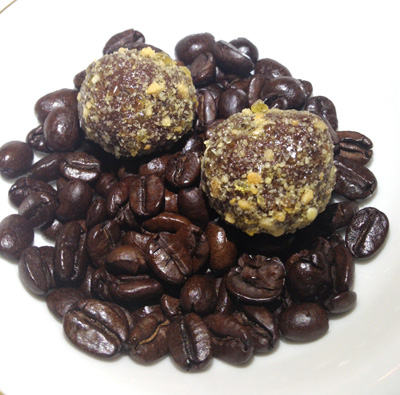 There is a reason The Cass House is so well-regarded. Their attention to detail, care and love they clearly have for their property and the lives they have built in this special place shows through in every touch, which is both classy and comfortable, like dining at the home of an old friend…who has a personal chef and kitchen staff. There were many other bites and dishes, but these are the ones that really stood out and made me want to come back for more.
The dining room is only open Thursday through Monday and reservations are required. The first seating is at 5:30 the last at 7:30 so the dining room never gets loud or crowded. Prepare to spend at least 2 hours in your chair. The chefs are not about to rush their creations and by spacing out the diners they are able to make each meal perfect. The cost for the meal alone is $72 per person, which considering the quantity of food and the talent and creativity on display is a real bargain in the fine dining world. The wine pairing, if you choose to let them choose, is an additional $38 for 5 different wines.
This is a must-stop if you find yourself on the Central Coast. Personally I'd make it a destination and book a room while you're at it. That way you can eat and drink your way into culinary oblivion with only a short walk upstairs to end the night. That's my plan for my next visit. It's a Central Coast wine country destination worth the detour.
THE CASS HOUSE INN & RESTAURANT: 222 N. Ocean Avenue, Cayucos, CA 93430 / 805-995-3669
Lisa Dinsmore is a writer, web programmer, movie and wine lover. She is also the Managing Editor of One for the Table.