Chinese Chicken Salad at Comfort's Cafe
by Amy Spies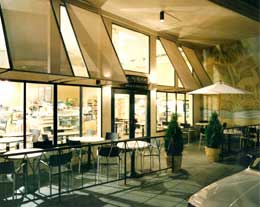 I keep trying to figure out why the Chinese Chicken Salad served at 'Comforts Cafe' is so uniquely spectacular. Well, first: as we've all infused, everything is location, location, location. And this chicken salad lives in a fabulous spot in a dreamy, mythic redwood-filled community. 'Comforts' is a very aptly-named, truly comfortable, small but open hang-in, hang-out, take-out restaurant on a small main street in the small northern California town of San Anselmo. It boasts daily, wonderfully creative specials including a brilliantly, non-greasily sautéed Chicken Okasan, innovative egg breakfast dishes with fresh local seafood and Sonoma jack cheese and veggies.
It sold muffin tops before their time. It's a place where you can sit, comfortably of course, for hours sipping the smoothie of the day made from local fruit or the wine made from local fruit of the wine or exotic tea next to local vintage rock stars such as Santana or film giants the likes of George Lucas, but also your kid's pet teacher or your favorite friend or happy-looking mountain bikers stopping in. And as for your favorite dish at Comforts, we all have our personal bests but--

Comforts' Chinese Chicken Salad is at the top of pretty much everyone's list. It is what's always served in huge bowls that are devoured at Marin County school functions, parties, brought or even phoned in to wakes. It's what people run in to take out, available in Chinese food-type cartons on shelves near an always-packed, interesting take-out counter. A film executive who knows her stuff told me that when she moved to L.A. from Marin, she couldn't believe what had the nerve to 'pass' for Chinese Chicken Salad after having lived in the land of Comfort's Chinese Chicken Salad.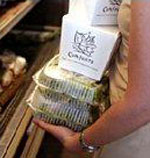 It's not like the ingredients are a secret---they don't differ that much from other Chinese chicken salads or even other chicken salads. Shredded white meat of chicken, lettuce, almond slivers, a few minimally fried wonton strips. Well, part of the difference might be in the slicing and dicing. Comfort's Chinese Chicken Salad is like a sliced chicken salad, strips of lettuce, chicken, and toasted almonds. I also think the right amount of each ingredient helps as does the produce being fresh and organic (after all, we are talking Marin County). But the special salad dressing is key. It's so spot-on that Comforts bottles the stuff, calling it Comforts Chinese Style Chicken Salad Dressing. It sells on site and at Marin's wonderful local markets. I lug bottles of it back with me to Los Angeles and have even thought about giving it as a gift. So I can now share the ingredients with you: safflower oil, rice wine vinegar (water, rice wine vinegar 100 grain), sugar, sesame seed oil, salt, garlic, pepper. 5% of all gross sales are contributed to charity.

Comforts is so on top of the menu-curve that it even boasts a calorie-lite version of its signature salad, with toasted rather than fried noodle/wonton/almond slivers and a non-oil, but still delicious dressing. Plus it offers to replace the chicken with salmon for fishetarian folk.

My normal food plate B & A (before and after) living in Marin County rarely includes Chinese Chicken Salad, but when in the 'Comfort' zone, I ALWAYS reserve a space for the amazing, incomparable Comfort's Chinese Chicken Salad.

Comforts
335 San Anselmo Avenue
San Anselmo, California 94960
Phone: 415 4549840
http://www.comfortscafe.com/
Southern California


by

Matt Armendariz





You might remember we were on a slight squash kick recently. It coincided with a visit to one of my favorite restaurants here in Long Beach, Michael's Pizzeria. I've said a million times that I...

Read more...

San Francisco


by

Amy Sherman





If you've never been to San Francisco you need to know our Summer starts NOW. Yes, in September. Not only is it pretty and warm and sunny but Summer produce--tomatoes, corn, pepper, and peaches...

Read more...

Los Angeles


by

S. Irene Virbila





Tables lined up along the windows at One Pico offer not only an ocean view, but also a glimpse of Santa Monica's glitzy new Ferris wheel. Its complex computer system dials out the colors,...

Read more...

Georgia


by

Rachel Parker





It has been weeks since I ate breakfast at Ria's Bluebird, but the place and the food keep nudging me. If you're in Atlanta, the drive to Ria's is towards downtown, to an industrial area that's...

Read more...