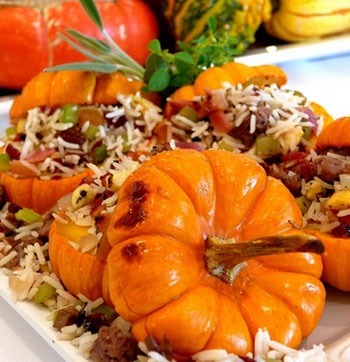 3 cups basmati rice
4 cups chicken broth
8 ounces Portobello mushrooms, chopped
1 1/2 cup brown onion, chopped
1 cup celery, minced
8 slices of bacon, chopped
1 lb. bulk breakfast sausage (or any other mild sausage)
1/2 cup dried cranberries, chopped
1/2 cup dried apples, chopped
1/2 cup dried apricots, chopped
1/2 cup golden raisins
1 teaspoon crushed sage leaves
1 teaspoon crushed leaf oregano
16 mini-pumpkins
Olive oil
Salt & pepper
Fresh sage and fresh oregano for garnish (optional)
Wash and dry mini-pumpkins.
With a sharp knife, slice off the tops of the pumpkins, right under the stems. Scoop out the seeds and scrape the inside edges with a spoon, until a smooth surface is achieved.
Place the pumpkins and their tops on a baking tray. The flesh ends of the tops of the pumpkins should be facing upwards on the tray.
Brush the insides and the tops of the pumpkins with olive oil and sprinkle with salt and freshly cracked pepper. Roast in a 350 degree F oven for 30 minutes or until fork tender.
Add rice and chicken broth to a large pan. Cover and bring to a boil, turning heat to low until all broth has evaporated, about fifteen to twenty minutes. Remove pan from heat and set aside.
While the rice is cooking, chop onion, celery and Portobello mushrooms. Set aside.
In a medium skillet, sauté bacon just until browned. Add bulk breakfast sausage to the same pan, cooking until both bacon and sausage are cooked through.
Remove the bacon and the sausage from the skillet, leaving 2 tablespoons of the grease behind. Set the bacon-sausage mixture aside, keeping warm.
Add onion and celery to the skillet; after 5 minutes, add mushrooms. Sauté until all vegetables are tender.
Add cranberries, apricots, apples, golden raisins, crushed sage leaves and crushed leaf oregano to the celery-mushroom mixture. Continue to sauté until the fruit is softened, about 5 minutes.
In a large bowl combine cooked rice, sausage-bacon mixture and celery-fruit mixture.
If the mixed rice appears dry, add chicken broth in ¼ cup increments. Mix well.
Use the rice mixture to fill roasted pumpkins.
Place stuffed pumpkins on a large platter and serve warm.
- Recipe courtesy of Cathy Pollak and her blog noblepig.com.