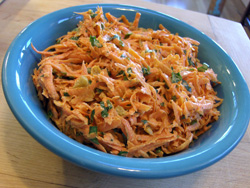 8 large carrots (preferably farmers' market fresh), washed, peeled, ends trimmed off
1 scallion (optional), finely chopped
1 small bunch Italian parsley, washed, dried, stems trimmed, finely chopped
2 tablespoons golden raisins
2 tablespoons lemon juice
1/2 teaspoon cumin
Pinch of cayenne
Sea salt and pepper
1/2 cup mayonnaise

Soak the raisins in lemon juice and 1/4 teaspoon black pepper at least 30 minutes, preferably overnight. Grate the carrots in a large mixing bowl. Roughly chop the raisins, reserving the lemon juice not absorbed into the raisins. Mix together the carrots, raisins, parsley, and scallions. Season with the cumin, cayenne, sea salt, and black pepper and toss. Add the lemon juice and mayonnaise. Mix well.

Variations

Use cilantro instead of Italian parsley
Add capers

Top with roasted chopped almonds

Serves 6-8 (makes 1 quart). Preparation Time: 20 minutes.
- Recipe courtesy of David Latt