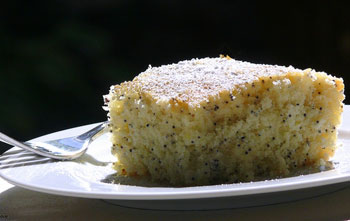 I know it doesn't look like much, but looks are often deceiving. 

I have been craving a little snack cake.  You know, one of those desserts you curl up with in the afternoon over a cup of coffee and a good read. 

I went searching in my files for something to satisfy my craving for a quick, easy dessert.  I came upon this recipe I clipped out of the Los Angeles Times possibly ten years ago.  I thought it was about time I made it.

This Poppy Seed Cake was a two-top prize winning recipe at the Iowa State Fair (not sure what year) and it's delicious.  Just perfect. 

The cake is moist, airy and totally enjoyable to eat.  It doesn't even need frosting, just sprinkle with powdered sugar and it's ready to devour.

While this is the perfect little snack cake, I can guarantee company wouldn't mind if you served it for dessert.

The recipe specifically mentioned to use cake flour only as the use of all-purpose flour results in a heavy, gummy texture.  Don't forget.
Poppy Seed Cake
Adapted from the Los Angeles Times

2-2/3 cups cake flour (do not substitute)
1-1/2 teaspoons baking powder
1/2 teaspoon baking soda
1/2 teaspoon table salt
1-1/2 Tablespoons poppy seeds
3/4 cup plus 2 Tablespoons butter, room temperature
1-2/3 cups sugar
3 eggs, room temperature
Zest of one lemon
2 Tablespoons lemon juice
1-1/2 teaspoons vanilla extract
3/4 cup buttermilk (I did not use lowfat & I let it warm up a bit with the eggs and butter before using)

In a medium sized bowl sift together cake flour, baking powder, baking soda and salt.  Add poppy seeds and set aside.

Beat butter with an electric mixer for about one minute.  Gradually add the sugar and beat until light and airy; about 2 more minutes.  Scrape down the sides of the bowl with a rubber spatula.

Add 1 egg at a time to butter-sugar mixture, beating well after each until batter is smooth.  Add lemon zest, lemon juice and vanilla; mix well.

Add dry ingredients to butter mixture, alternating with buttermilk (i.e. start with dry and end with dry) scraping down sides with rubber spatula after each addition.  Do not over mix or you will have a tough cake.

Grease bottom and sides of a 13 x 9-inch cake pan (use butter and flour, shortening and flour or baking spray).  Pour batter into prepared cake pan and use a spatula to spread batter evenly in pan.  Bake at 350 degrees for 27-30 minutes or until a toothpick comes out clean.

Let cool on a wire rack and sprinkle with powdered sugar before serving.
Cathy is currently in the development stages of her vineyard and winery in the Willamette Valley of Oregon.  She is a food writer for Davis Life Magazine and blogs daily about wine, food and everyday living.  She lives with her husband and two sons.  You can visit her at noblepig.com.