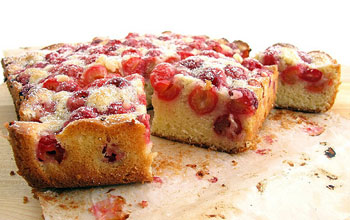 Sour cherries are revered for their tart taste, aroma, and flavor. They're a special fruit with lots of versatility in both sweet and savory recipes. In Hungary, sour cherries are king in early summer. They're too tart to enjoy fresh, though some people do eat them that way. Sour cherries are much better in recipes: tarts, pies, cakes, compotes, brandied cherries—these are some popular recipes. Here in the States sour cherries are pretty rare and hard to find, and their season is short, but they are in season now. If you look hard enough you'll find these red jewels in farmers' markets, especially on the East coast.

I love sour cherries in every which way, especially in sweet recipes, like pie and even soup. When I was a kid my mom would make sour cherry cakes and tarts, but she almost always used canned or jarred cherries, because it was difficult to find fresh ones. Luckily for me, I picked up two quarts of sour cherries at Cheerful Cherry Farm at the Union Square Greenmarket this past week. Immediately all the possibilities of what to make swirled in my mind. But I knew that making a sour cherry cake like my mom's would be the perfect choice.

This recipe starts with a simple spongecake-like base that's light and fluffy. It's just right for encasing the sour cherries, which get scattered on top before baking. Since the cake batter is somewhat denser than typical spongecakes, the cherries don't migrate to the bottom, but stay mostly on the surface. Dusting the cherries in flour also helps keep them from sinking.

This cake is ideal with coffee or tea, for breakfast or an afternoon delight. Serve it dusted with a little powdered sugar, which helps tame some of the tartness. After making this recipe, you'll know how special sour cherries are.

Sour Cherry Cake

1 cup all purpose flour, plus 2 tablespoons
1 teaspoon baking powder
1 teaspoon salt
3 large eggs separated
3/4 cup granulated sugar, plus 2 tablespoons
3/4 cup (1-1/2 sticks) unsalted butter, room temperature
1 teaspoon pure vanilla extract
2 cups stemmed and pitted sour cherries
confectioners sugar, for dusting

Preheat oven to 350 degrees F. Butter a 9-by-9-by-2-inch baking pan, line with parchment paper, and butter again. Sift together dry ingredients: 1 cup flour, baking powder, and salt.

In the bowl of a stand mixer fitted with the whisk attachment, whip egg whites with 2 tablespoons sugar until stiff peaks form. Remove to a bowl.

Wipe out mixer and fit with the paddle attachment. Cream butter with 3/4 cup sugar until light and fluffy. Add vanilla and egg yolks and mix until combined. Add flour, a little at a time, until incorporated. Fold in egg whites in three additions until no streaks are visible. Pour batter into prepared pan, smoothing top.

Toss sour cherries with 2 tablespoons flour and scatter over batter, pressing a few down into the batter. Bake until golden brown, about 30 to 40 minutes or until a skewer inserted into the center comes out clean. Cool in pan for about 15 minutes. Remove to wire rack to cool completely. Slice into squares and serve dusted with confectioners sugar. Yield: 9 squares.
Joseph Erdos is a New York–based writer and editor, butabove all a gastronomer and oenophile. He shares his passion for foodon his blog, Gastronomer's Guide , which features unique recipes and restaurant reviews among many other musings on the all-encompassing topic of food.