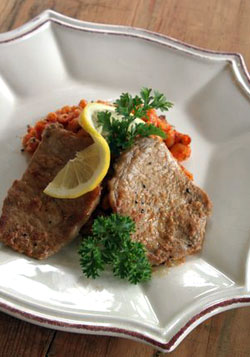 Technically defined as "thin cuts of meat, sautéed and cooked in a rich sauce," the scaloppini fashion for cooking pork, chicken, and veal is simple and elegant. In the midst of my stew, soup and comfort food wintertime phase, I ere toward the side of something fresh and light in betwixt the heaviness comfort food affords. Enter my Skinny Pork Chop Scaloppini.
Lemon, garlic, thyme, rosemary, parsley and white wine all meld and mélange together to form a succulent sauce with the renderings of the thinly slice pork cutlets.
Why pork for this dish? Well, to quote my Mimi, "If I have to eat one more piece of chicken, I may scream! There IS another white meat!" Upon delivery of such a statement, Mimi and I drove to a fast food chain and scarffed down cheeseburgers and fries. Sometimes there is nothing better. Back to the dish at hand!
Like my Mimi, I do like a break from chicken and thinly sliced pork cutlets fit the bill. Veal too is luscious in this manner but many folks have an aversion to said meat; thus, the pork cutlets make do marvelously. This cut of meat is economical, easy to handle and the perfect portion to plate. They brown well, yielding that flavor as a delightful element for the sauce. Ahhhhh – the sauce!
I tend to crave a buerre blanc sauce, relishing that phenomenal combo of lemon, garlic and wine. Once the cutlets have browned, a hearty splash of good white wine deglazes the pan, forcing those browned bits of meat and garlic to relinquish their hold on the skillet's bottom and bond together with the wine. Letting the wine simmer and reduce concentrates the flavor of liquid and helps tenderize the meat. A liberal squeeze of lemon gives a tangy, citrusy, floral note – what joy shall fill my soul!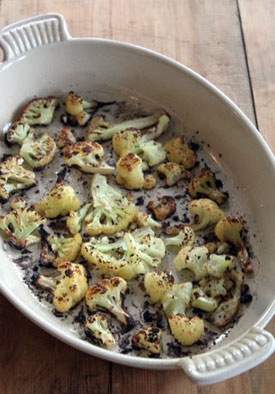 My baby sister loves pasta and marinara. I lean toward cream sauces and this sauce. But for this meal, a sauce of crushed tomatoes, parmesan, and garlic over fun macaroni pasta made the bed for my pork scaloppini. I love how the wine and lemon actually enhanced and complemented the tomato sauce, for I worried they may be too much of good things… too much of a good things that simply remained good things.
Obsessed and addicted to roasted cauliflower, I roasted some to serve with this meal. Olive oil, salt and pepper on thinly sliced cauliflower and then roasted – ab fab! I've roasted about everything I can, but cauliflower just might be fave.
With a crazy schedule of book tours, speaking engagements, and a design business to boot, I love nothing more than a meal that is so simple and elegant, easy to prep and plate, and full of flavor bursts and complementary textures.
This meal is all the above – it's even "purdy" enough for company! Your schedules are full too with kids, work, family and so forth, so I hope this dish makes its way to your table. Dashes of thyme, parsley, and even a scant bit of rosemary add zips from the garden and some freshness too. From this Farmer's kitchen to your table and tummy, enjoy!
Skinny Pork Chop Scaloppini
1 package of thinly sliced pork cutlets (about 5-6 cutlets)
Heaping cup of good quality white wine – really close to a cup and a half
Heaping tablespoon or two of minced garlic
Juice of one lemon or half a large lemon
Salt and pepper to taste
2 tablespoons of olive oil
Tablespoon of parsley, thyme and rosemary minced with salt
Heat the oil in an iron skillet or sauté pan until hot, patting the pork cutlets dry with paper towels in the meantime.
Place the cutlets in the oil and watch them sizzle and brown, salting and peppering the exposed side and spreading the garlic on the meat too. Flip the cutlets after two minutes or when the meat easily releases from the pan.
Season the now upturned brown side and cook for another minute. Add the white wine and allow the pan to deglaze and the wine to reduce by half. You may have to scrape some of the browned bits from the bottom of the pan if the wine doesn't release them. Flip the cutlets again and again if need be to keep 'em moving and the sauce turned.
Once the wine has reduced, squeeze the lemon juice over the pork and remove from heat. Add the herbs of your choice for savory, green flavor and serve over warm pasta, risotto, mashed potatoes, peas, or with steamed or roasted vegetables. Garnish with parsley and lemon – since we eat with our eyes first, it's fun to see the flavors before we've tasted them! Enjoy!
James T. Farmer III was born and raised in Georgia, where he continues to live and work as a landscape designer. He shares his love of food, flowers and photography on his blog All Things Farmer