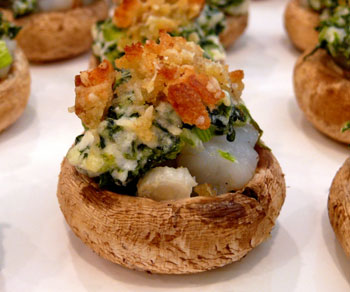 My love of stuffed mushrooms started when I was very young thanks to my Aunt Mary.

Every holiday Aunt Mary made mushrooms stuffed with pork sausage.  A simple starter to a large festive meal but always a crowd pleaser.

Somehow, no matter how many of those mushrooms she made, it was never enough.  My cousins and I devoured them quickly and in epic proportions.  This is where my taste for all things "stuffed mushrooms" reared its head.

I have never lost the craving.

When I came across this recipe for Shrimp Rockefeller Stuffed Mushrooms with Parmesan Crumbs I knew I couldn't wait to make it.

While I love making and eating Oyster's Rockefeller, shrimp is just much easier to work with.
Shrimp Rockefeller Stuffed Mushrooms with Parmesan Crumbs
Adapted from Cuisine at Home

Prepare and Roast:
24 large button mushrooms

Saute in 1 T. Olive Oil
1 lb. large shrimp, peeled, deveined, cut into chunks.
Salt and pepper to taste.

Combine; Add:
3 oz. cream cheese, softened
3 tablespoons mayonnaise
1 tablespoon milk
10 oz. frozen chopped spinach, thawed, squeezed dry
3 tablespoons Parmesan, grated
1 teaspoon dried tarragon or 2 teaspoons fresh, minced
1 teaspoon fresh lemon juice
1/2 teaspoon Worcestershire sauce
2 tablespoons scallions, minced
Salt and pepper to taste

Toss Together; Top With:
1/2 cup fresh bread crumbs (I used a crusty sourdough roll and put in the food processor)
3 tablespoons Olive oil
3 tablespoons Parmesan, grated

Preheat oven to 425 degrees F.

Prepare mushrooms by first removing and discarding the stems.  Arrange caps on a baking sheet, stemmed side up, sprinkle insides with salt, and roast 10 minutes.  Flip caps over and roast 5 minutes more.  Remove mushrooms from oven; leave oven on.

Saute shrimp in 1 tablespoon olive oil in a nonstick skillet over medium-high heat just until pink, about 2 minutes.  Season with salt and pepper; set aside.

Combine cream cheese, mayonnaise, milk, spinach, 3 tablespoons Parmesan, tarragon, lemon juice, Worcestershire, scallions and salt and pepper to taste.

Toss crumbs with 3 tablespoons oil, 3 tablespoons Parmesan, salt and pepper to taste in a small bowl.  Stuff mushrooms, placing 2 or 3 shrimp pieces in each cap.  Top with a generous teaspoon of cream cheese mixture, sprinkle with crumbs, then bake until heated through and topping is golden, about 8 minutes.  Serve immediately.
Cathy is currently in the development stages of her vineyard and winery in the Willamette Valley of Oregon.  She is a food writer for Davis Life Magazine and blogs daily about wine, food and everyday living.  She lives with her husband and two sons.  You can visit her at noblepig.com.