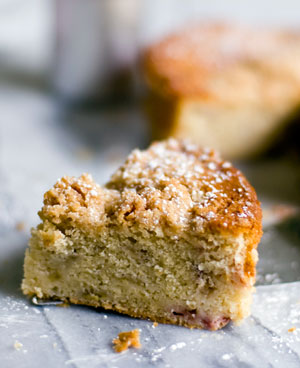 It's rhubarb season. I took me a while but I have discovered rhubarb. And what I have discovered is that I like them. I like them in a crisp, in a buckle, in a muffin, stewed with other fruit, and in a pie. The word rhubarb was a turn off for me. I don't know why. I just had a visceral aversion to it.
Then one evening, while out with some of my best friends, at one of my favorite restaurants – Gjelina – we ordered the strawberry rhubarb crisp for dessert. There were several other sweet treats on the table that night, but it was this particular dessert that blew our taste buds away. And it is forever etched in my memory. Cannot wait to go back. I'll order a few of my favorite small bites and this crisp.
I picked up some rhubarb at the farmers market last weekend. Came home with it and the rest of my loot, and sat down in my comfy, oversized, vintage leather chair. I opened up one of my favorite books; rustic fruit desserts and searched for something to make. I earmarked the rhubarb buckle with ginger crumb as well as the rhubarb oat and pecan crumble.
In celebration of mother's day, I made the buckle. What could be more satisfying than a piece of this cake, along with a cup of tea for a Sunday afternoon snack? I really can't think of anything more satisfying...
Rhubarb Buckle with Ginger Crumb
Adapted from "Rustic Fruit Desserts"
1 9″ cake or 1 8″ cake and 3 small single servings
Ingredients:
Ginger crumb topping:
1/3 cup organic whole cane sugar
1/4 cup all-purpose flour
/4 cup finely chopped candied ginger
2 tablespoons unsalted butter, melted
Cake:
1 3/4 cups all-purpose flour
1 teaspoon baking powder
1 teaspoon powdered ginger
1/2 teaspoon baking soda
1/2 teaspoon salt
3/4 cup (6 oz.) unsalted butter, at room temperature
1 cup granulated sugar
2 eggs
3/4 cup buttermilk, at room temperature
1 pound rhubarb, trimmed and thinly sliced (about 2 1/2 cups, or 5 stalks)
Instructions:
Preheat oven to 350°F. Grease a 9-inch round baking pan.
To make the crumb topping:
Mix sugar, flour and candied ginger together in a bowl, then stir in melted butter, until well combined. Place crumb in freezer while you mix cake batter – this chills the crumb so it will not immediately melt into the cake when baked.
To make the cake:
Whisk flour, baking powder, ginger, baking soda and salt together in a bowl. Using a stand mixer with the paddle attachment, cream the butter and sugar together until light and fluffy. Add eggs one at a time, scraping down the sides of the bowl after each addition. Stir in flour mixture in three additions, alternating with the buttermilk in two additions, beginning and ending with the dry ingredients. gently fold in rhubarb.
Spread batter into the prepared pan, then sprinkle ginger crumb over the cake. Bake for 45-50 minutes, or until lightly golden and firm on top. (Allow to cool to room temperature before serving.)
Wrapped in plastic wrap, the cake will keep at room temperature for 2-3 days.
Makes 8-12 servings
Susan Salzman writes The Urban Baker blog to explore her dedication to good food in the hope of adding beauty to the lives of her family and friends.