Quick & Easy Lemon Garlic Roast Chicken Breasts
by James Moore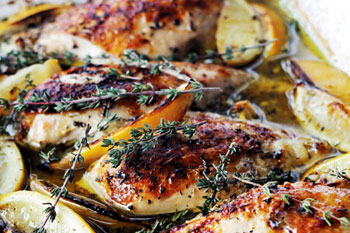 Some nights I just can't decide what to make for dinner - especially when time is short, and I'm not in the mood for recipes that require lots of prep (and therefore lots of cleanup).
This lemon chicken recipe adapted from Ina Garten's cookbook – How Easy is That? – is perfect when you're looking for "fast and delicious".
Lemon, garlic and thyme is a classic combination for chicken – I usually buy chicken breasts with rib bones and skin, I think it adds a lot more flavor to the dish.
Quick & Easy Lemon Garlic Roast Chicken Breasts
1/4 cup olive oil
6-8 cloves garlic, minced (about 2-3 tablespoons)
2 shallots, minced
1/2 cup dry white wine (or chicken broth)
1 tablespoon grated lemon zest (from 2 lemons)
2 tablespoons freshly squeezed lemon juice
1 1/2 teaspoons dried oregano
2 teaspoons minced fresh thyme leaves, plus a few sprigs for garnish
Kosher salt and freshly ground black pepper, to taste
4 boneless chicken breasts, skin on (6 to 8 ounces each)
1 lemon (cut into 8 wedges)
Directions:
1. Preheat the oven to 400 degrees F.
2. Warm the olive oil in a small saucepan over medium-low heat, add the garlic and shallots, and cook for just 1 minute but don't allow the garlic to turn brown. Off the heat, add the white wine, lemon zest, lemon juice, oregano, thyme, and 1 teaspoon salt and pour into a 9 by 13-inch baking dish; set aside
3. Pat the chicken breasts dry and place them skin side up over the sauce. Brush the chicken breasts with olive oil mixture and sprinkle them liberally with salt and pepper. Add the 8 lemon wedges and tuck them among the pieces of chicken.
4. Bake for 30 to 40 minutes, depending on the size of the chicken breasts, until the chicken is done and the skin is lightly browned. If the chicken isn't browned enough, put it under the broiler for 2 minutes. Cover the pan tightly with aluminum foil and allow to rest for 10 minutes. Sprinkle with salt and serve hot with the pan juices.
James Moore has been a cooking enthusiast since childhood and started blogging as a way to share favorite recipes with friends and family. His site, Cook Like James has grown to include restaurants, cookbooks, wines, and favorite places.
New York


by

Michael Tucker





Call out the riot squad! Barricade the streets! Lock up your daughters! The Three Fat Unemployed Actors' Lunch Club is on the loose again — this time in the far reaches of Queens at the wonderful...

Read more...

Los Angeles


by

Lisa Dinsmore





Though I've lived in Los Angeles for two decades, I still don't consider myself an Angeleno. Mostly because we rarely do anything that's considered interesting or hip in this vast and...

Read more...

New York


by

Diane Sokolow





My dad was a two job guy. We lived in a representative, working class neighborhood in Brooklyn, which was to me, the paradise of the world. Representative I learned years later meant not just...

Read more...

New England


by

Melanie Chartoff





I hail from New Haven, although I've frankly never in my life hailed, even for a taxi cab. It's simply not my style. I visit the Elm City (although I'm not sure why it's nicknamed thus as all the...

Read more...