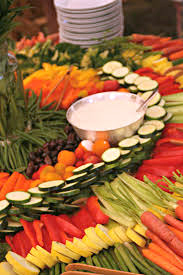 "…definitely the tuna tartare, and the hazelnut crusted chicken, and… then a nice, big crudite platter…"
My client was reviewing my menu suggestions for her 150-guest cocktail party, adding the last one on her own.
"NO", I said, a little more aggressively than I had intended. "No", softer now, but with the same sentiment. "I just can't do crudite anymore."
My client paused. The phone was silent. "Ok", I caved, "we'll figure something out. Maybe a small crudite is alright."
Years ago, I worked as a free-lance chef for a big-time catering company in Los Angeles. We would cater colossal parties for the astronomically rich, where every display was over the top. There were epic platters of food – with sausages and cheese flown in from other countries and cupcake towers the size of New York brownstones.
We would cut vegetables for days, whittling jicama and carrot wedges into little pointy daggers, nipping the tops off radishes, and blanching broccoli and sugar snap peas into the brightest green they could be. It was a thing of beauty for sure, but we had to buy and cut three times more veggies than anyone could ever eat.
Catering is all about making platters look full at all times – which means there has to be tons of coverage. We have to make sure that if someone suddenly goes on a Persian cucumber binge, the display still looks abundant. Hey, nothing says success like excess, right? Well, 75% of the cascading peppers, baby tomatoes, and asparagus would wind up in the garbage. It was heartbreaking.
Of course, the staff would take some veggies home, but no matter how many servers leave with pockets full of carrots, you've got beautiful produce going in the trash. Earth-MachineI had an earth machine in my backyard, so I would take the compostable extras home, but eventually it got too much for my composter.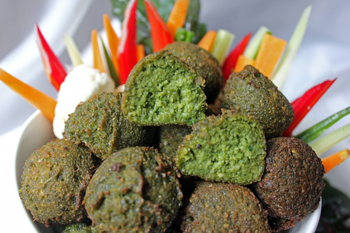 The plain and simple truth is, no matter how crack-tastic your dip is, people are only going to have a couple pieces of crudite. Maybe it's time to move on from the classic crudite presentation. Maybe we can figure out a way to still provide vegetables with a more responsible attitude. I think there's a psychological component to passed apps. People feel better about challenging the cupcake tower if they can also have a celery stick. I'm all about people eating things that are good for them, just not about wasting good food.
One of my solutions was this… falafel. It's delicious, vegan, gluten-free, healthy, AND fried. It could dance in and among some gorgeous cut veggies with delicious hummus and tzatziki to serve as dip for all. I also make my falafel with a little bit of blanched spinach or kale to make it very green – so it's gorgeous on the platter. I buy fewer veggies, more get eaten, and I toss none (I'm still filling my waitstaff's pockets with extra cauliflower and green beans). Everyone wins.
Fresh falafel is easy to do, though it takes a night to soak the garbanzo beans. I've tried to do it with canned beans, but the falafel fall apart when they're fried (even if they're drained well). I like to make them with garbanzo flour too so they're totally gluten free, though all-purpose flour works well if you don't have to worry about gluten.
Gluten Free Falafel
Ingredients:
1 cup dried garbanzo beans
1 medium onion, cut into quarters
2 garlic cloves
1/2 cup fresh parsley
1/2 cup fresh cilantro
1 teaspoon coriander
1 teaspoon cumin
1/2 teaspoon cinnamon
1/2 teaspoon baking soda
1 teaspoon salt
4 tablespoons garbanzo flour
Oil for fying
Salt and pepper to taste
Soak the garbanzo beans for at least 8 hours in water that covers the beans by two inches. Drain.
In a food processor, pulse the onion with the garlic, parsley, and cilantro until it's chopped fine. Add the drained garbanzo beans and puree. Add the coriander, cumin, cinnamon, soda, salt and continue to puree. Add the garbanzo flour and pulse until it's incorporated.
Heat the oil in a medium pot until it has reached 325 degrees F. Using a small cookie dough scoop or a tablespoon, scoop out the falafel batter and carefully drop it into the oil. It will only take about 15 seconds to cook.
Sprinkle with salt and pepper.
If you'd like to make these as green as mine are, simply blanche a couple of leaves of kale for about 30 seconds in boiling water. Then add the kale into the food processor when you're blending all the ingredients.
Alison Wonderland Tucker is a chef and caterer who lives and works in New York City. She writes about her love of food and life as a chef on her blog A Wonderland of Words.