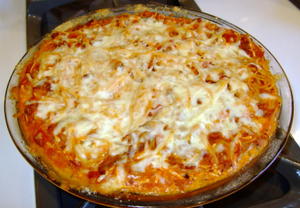 I have a large collection of both vintage and current cookbooks with many favorites, but my heart skips a beat when I come across one of those local PTA, Church Auxiliary, American Legion, Junior League or Private Club cookbooks - usually in a spiral binding! Heaven! Where else can one find so many venerable variations on the great American cheese ball, guacamole, bean and sour cream dip, or anything made with dried onion soup mix – Laugh! (Ha-Ha) but the best comfort food in the world comes from these unpretentious, homey books!
My darling husband, Bill and I summer on Martha's Vineyard (true Heaven) and while there, my favorite go-to references for comfort food are STAR-SPANGLED RECIPES from the American Legion Auxiliary General George Goethals Post #257, Vineyard Haven, MA, and my newest, THE WEST CHOP COOK BOOK.
From Star-Spangled Recipes comes Island Lobster Stew, Lasagna for 150, and Spaghetti Pie. Yes! I used to make re-fried spaghetti pie when I secretly raided the fridge as a young child! Well, actually my dish was re-fried spaghetti sandwiches on white bread with mayo. Yum. Their pie has neither white bread nor piecrust but it does have cottage cheese, and while I haven't tried it (the name alone satisfies me) I have the recipe near by for any potential nostalgic hunger fits. There is a saying on the island, "Summer People – Summer not!" When I cook from this book, I am no longer a summer resident but … An Islander!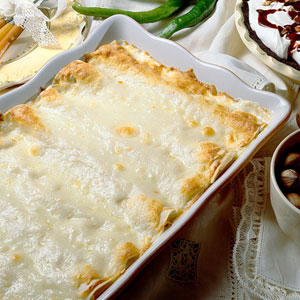 The West Chop Club Cookbook, is a true summer cookbook with wondrous "beverage" recipes such as Tim's Sourball and variations on the Pimm's Cup, to compliment a variety of hot and cold appetizers including The Gourmet Crab Ring, Krispie Cheese Drops and Maude's Marvelous Mushrooms – reflecting the style of the club itself, which was opened in 1889, and which has maintained the multi-generational comfort of an old cozy, small town neighborhood.
It was here I knew I would find true comfort food, and I did – Chicken Enchiladas made with cream cheese, butter, sour cream, Monterey jack, and heavy cream. Flour tortillas, a few chopped chilies and a bit of Tabasco gives it that Ole sensation! That is not authentic Mexican Enchiladas you say? Like I said, Go on, Laugh! You will be laughing on the outside but secretly you will long for a bite!
I did come across something that seemed anything but comfort food – Vinegar Pie. Yikes. Sounds like something an evil nanny would cook up. This called for lunch with its contributing cook who just happens to be good friend, Olga Hirshhorn, of the Mouse House and Hirshhorn Museum fame. Olga an utterly fabulous, cosmopolitan chick in her early 90's is quite fond of her Vinegar Pie (a recipe handed down from pioneer days) but she is most proud, as it turns out, of her Lady Bird Johnson's Duck a L'Orange, which calls for two pre-cooked super market chickens. "Oh Duck l'Orange," the former first lady exclaimed as Olga presented her with this easy-to-make dish. "No" Olga said, "Chicken L'Orange!" Lady Bird laughed and laughed … How comforting is that!
Spaghetti Pie
Ingredients:
6 oz. Spaghetti cooked
2 tablespoons butter
2 eggs beaten
1 cup cream style cottage cheese
1/3 cup Parmesan cheese
1 lb ground beef
½ cup onion, chopped
Salt and pepper
1 teaspoon sugar ½ tsp garlic salt
Spaghetti sauce
Preparation:
To cooked spaghetti, add butter, eggs, and Parmesan cheese. Press into 10-inch pie plate. Spread cream style cottage cheese on top.
Brown ground beef in a skillet with onion. Drain when cooked. Add enough spaghetti sauce to make thick, not runny. Add salt, pepper, garlic and sugar. Simmer 5 minutes. Pour into spaghetti mixture. Bake 20-25 minutes at 350 degrees. Last 5 minutes sprinkle Mozzarella cheese on top. (Jo Ann Murphy)
Chicken Enchiladas
Ingredients:
1 tablespoon butter
1 onion, chopped
4 chicken breasts cooked and shredded
8 oz cream cheese, cut into cubes and softened
1 cup sour cream
1 (4oz) can chopped green chilies
1/8 teaspoon Tabasco or to taste
8-12 flour tortillas
12 oz shredded Monterey jack cheese
½ cup heavy cream
Preparation: Melt the butter in a saucepan; add onion and sauté until translucent. In a bowl combine the onions with chicken, cream cheese sour cream, green chilies and cayenne pepper; season with salt and Tabasco and mix well. Warm the tortillas in the microwave. Divide the chicken mixture among the tortillas and roll up. Place the rolls seam side down in a 9x13-baking pan. Sprinkle with cheese and pour cream evenly over the top. Bake at 350 degrees for 30 mins. Serve with salsa. (Laura Killebrew Finney)
Vinegar Pie
Ingredients:
1 tablespoon. Butter
½ cup sugar
3 tablespoons flour
1 teaspoon cinnamon
¼ teaspoon powdered allspice
1/8 teaspoon salt
1 egg
2 tablespoons vinegar
1 cup water
1 piecrust, baked
Preparation: In top of a double boiler, mix the ingredients in order. Cook in the double boiler over boiling water for 7-8 mins. Pour into baked pie shell. Bake at 350 degrees for 12 mins. Cool and serve. Serves six (Olga Hirshhorn)
Lady Bird Johnson's "Duck a l'Orange"
Ingredients:
1 or 2 "lemon pepper" supper market cooked chickens – Cut into serving pieces
1 jar orange marmalade
Cooked shrimp (optional)
Pineapple juice
Pineapple slices
Preparation: In a serving dish, arrange chicken pieces. Add ¼ inch pineapple juice, pouring over the chicken. Top each piece of chicken with a dollop of marmalade. Add pineapple slices (one per person) Add shrimp if desired. Bake at 350 for 30 minutes. Serves six to twelve. (Olga Hirshhorn)
Nancy Ellison, award winning photojournalist and celebrity portraitist, has authored fourteen books of photographs, including "Romeo and Juliet: The Love Story in Dance" and "Starlet". Her newest book, "Wagner's Eternal Ring" was published in September 2010 by Rizzoli.