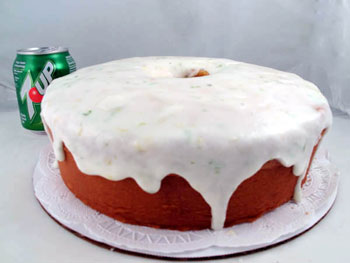 Years ago, when I was living on Beacon Street in Boston's Back Bay, I was invited to a rooftop barbecue by my neighbor. Everyone was bringing something, so I thought a pound cake with fresh strawberries would be nice. It was a great party, and the host, who was raised in North Carolina, prepared an elaborate feast of primarily Southern Cuisine – ribs, chicken, baked beans, succotash, corn bread, etc.
When it came time for dessert, everyone seemed to enjoy the pound cake and berries and I asked our host if he liked the cake. He said it was good and asked if I made it with 7UP. When I said that I had NOT, he replied, "then this is pound cake's cousin – a real pound cake has 7UP in it!" When I saw this recipe in the Summer Entertaining issue of Cook's Illustrated, I decided to try it. It's a great buttery cake with a delicious lemon-lime flavor. I guess my neighbor knew what he was talking about!
Moist 7-Up Pound Cake
2 ½ cups (17.5 ounces) granulated sugar
½ cup 7UP, room temperature (see note)
5 large eggs, room temperature
1 tablespoon grated zest plus 2 tablespoons juice from 1 lemon
1 tablespoon grated zest plus 2 tablespoons juice from 2 limes
½ teaspoon salt
20 tablespoons (2 1/2 sticks) unsalted butter, melted and cooled slightly
3 ¼ (13 ounces) cups cake flour
Glaze
4 tablespoons unsalted butter, melted
2 tablespoons lime juice
2-3 tablespoons lemon juice
2 cups (8 ounces) confectioners' sugar
1 teaspoon lemon zest
1 teaspoon lime zest
1. Adjust oven rack to lower-middle position and heat oven to 300 degrees. Grease and flour a 12-cup nonstick tube pan.
2. Process sugar, eggs, 7UP, lemon zest and juice, lime zest and juice, and salt in food processor until smooth. With machine running, slowly pour in butter and process until incorporated. Transfer to large bowl. Add flour in three additions, whisking until combined.
3. Spread batter in prepared pan. Gently tap pan on counter. Bake until toothpick inserted in center comes out clean, 75 to 90 minutes. Cool cake in pan 10 minutes, then turn out onto wire rack set inside rimmed baking sheet to cool completely, about 2 hours.
GLAZE:
Whisk confectioners' sugar, melted butter, lemon juice, and lime juice in bowl until smooth. Pour glaze over cooled cake. Let glaze set 10 minutes. Serve. (Cake can be wrapped in plastic and held at room temperature for 3 days.)
James Moore has been a cooking enthusiast since childhood and started blogging as a way to share favorite recipes with friends and family. His site, Cook Like James has grown to include restaurants, cookbooks, wines, and favorite places.