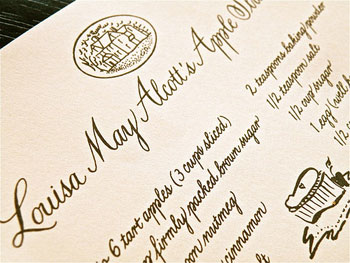 When my friend Sara from Culinerapy visited Concord, Mass. last year, she made a reader's pilgrimage to Orchard House, the historic home of Louisa May Alcott. Since Sara and I (and half the women we know) share an abiding love for Alcott's 1868 novel Little Women, she sent me a thoughtful souvenir: the author's recipe for Apple Slump. It's a homey, deliberately simple dessert, comfort cousin to fruit buckles, bettys, cobblers, grunts and pandowdys. Still, reading the calligraphy-script recipe, I could see where I might tweak it. And I thought, who am I to edit Louisa May Alcott?
Not editing, really. Finessing. Alcott may have mastered prose at the desk, but in the kitchen she was likely closer to Jo March, for whom the "bread burned black" and the "cream turned sour." Making Apple Slump would be like cooking with Ms. Alcott's domestically-challenged ghost, and while I cored and sliced I considered my years reading and rereading the March girls, picturing Amy's limes, Meg's vain high heels and lonely Jo in the attic with apples, writing and cursing scarlet fever, the villain that stole Beth. I regretted that my little tweaks – dash of vanilla, an extra apple – could not make Laurie come to his senses and dump Amy. Pecans would add crunch but they would never make Jo marry Laurie, nor bring Beth back. They're a matter of personal taste, like my feelings about Meg wedding that dull John Brooke, and while they won't change the story they can at least enhance Ms. Alcott's kitchen legacy, and certainly perk up the Slump.
A few choice scenes – with apples – from Little Women.
- THE LAURENCE BOY -
"Jo! Jo! Where are you?" cried Meg at the foot of the garret stairs.
"Here!" answered a husky voice from above, and, running up, Meg found her sister eating apples and crying over the Heir of Redclyffe, wrapped up in a comforter on an old three-legged sofa by the sunny window. This was Jo's favorite refuge, and here she loved to retire with half a dozen russets and a nice book, to enjoy the quiet and the society of a pet rat who lived near by and didn't mind her a particle. As Meg appeared, Scrabble whisked into his hole. Jo shook the tears off her cheeks and waited to hear the news.
- BETH FINDS THE PALACE BEAUTIFUL -
"See the cunning brackets to hold candles, and the nice green silk, puckered up, with a gold rose in the middle, and the pretty rack and stool, all complete," added Meg, opening the instrument and displaying its beauties.
"'Your humble servant, James Laurence'. Only think of his writing that to you. I'll tell the girls. They'll think it's splendid," said Amy, much impressed by the note.
"Try it, honey. Let's hear the sound of the baby pianny," said Hannah, who always took a share in the family joys and sorrows.
So Beth tried it, and everyone pronounced it the most remarkable piano ever heard. It had evidently been newly tuned and put in apple-pie order, but, perfect as it was, I think the real charm lay in the happiest of all happy faces which leaned over it, as Beth lovingly touched the beautiful black and white keys and pressed the bright pedals.
"You'll have to go and thank him," said Jo, by way of a joke, for the idea of the child's really going never entered her head.
"Yes, I mean to. I guess I'll go now, before I get frightened thinking about it." And, to the utter amazement of the assembled family, Beth walked deliberately down the garden, through the hedge, and in at the Laurences' door.
- HARVEST TIME -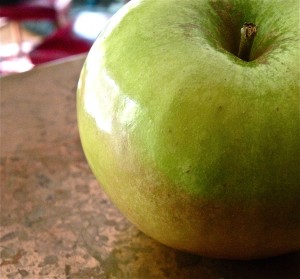 There were a great many holidays at Plumfield, and one of the most delightful was the yearly apple-picking. For then the Marches, Laurences, Brookes and Bhaers turned out in full force and made a day of it. Five years after Jo's wedding, one of these fruitful festivals occurred, a mellow October day, when the air was full of an exhilarating freshness which made the spirits rise and the blood dance healthily in the veins.
The old orchard wore its holiday attire. Goldenrod and asters fringed the mossy walls. Grasshoppers skipped briskly in the sere grass, and crickets chirped like fairy pipers at a feast. Squirrels were busy with their small harvesting. Birds twittered their adieux from the alders in the lane, and every tree stood ready to send down its shower of red or yellow apples at the first shake.
"Yes, Jo, I think your harvest will be a good one," began Mrs. March, frightening away a big black cricket that was staring Teddy out of countenance.
"Not half so good as yours, Mother. Here it is, and we never can thank you enough for the patient sowing and reaping you have done," cried Jo, with the loving impetuosity which she never would outgrow.
LOUISA MAY ALCOTT'S APPLE SLUMP
from Orchard House, Concord, Massachusetts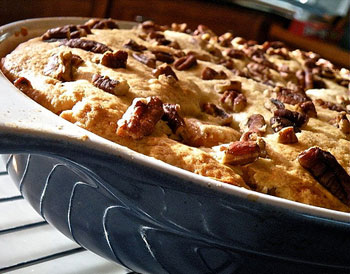 4-6 tart apples (I used 3 large Granny Smith and 3 medium Golden Delicious)
1/2 cup firmly packed brown sugar
1/4 teaspoon nutmeg
1/4 teaspoon cinnamon
1/4 teaspoon salt
1 1/2 cups flour
2 teaspoons baking powder
1/2 teaspoon salt
1/2 cup sugar
1 egg, well-beaten
1/2 cup milk
1/2 cup melted butter
Peel, core and slice the apples. Preheat oven to 350° F. Grease with butter the inside of a 1-1/2 quart baking dish. (NOTE: for a shallower, more even apples-to-topping ratio, use a 9 x 13 pan.) Put into the dish the sliced apples, brown sugar, nutmeg, cinnamon and 1/4 teaspoon salt. Bake apples uncovered until they are soft, about 20 minutes.
While the apples are baking, sift together into a bowl the flour, baking powder, 1/2 teaspoon salt, and sugar. Mix into this the beaten egg, milk, and melted butter. Stir gently. Spread this mixture over the apples and continue baking — until the top is brown and crusty (about 25 minutes). Serve with whipped cream. Serves 6.
NOTES (with apologies to Ms. Alcott)
1. Use at least 6 good-sized apples – 7 or 8 if they're small – or you'll have more topping than fruit.
2. Where the instructions say "Put into the dish the sliced apples, brown sugar, nutmeg…" I tossed the apples with the brown sugar, nutmeg, cinnamon and salt in a separate bowl, then poured the mixture into the baking dish. I also added 1/4 teaspoon pure vanilla to the apple-sugar mixture.
3. I sprinkled 1/2 cup chopped pecans over the batter topping.
4. Baking times (for both the uncovered apples and the batter-topped Slump) may be longer than noted. Watch for the apples to soften and the top crust to turn an even, light gold-brown.
Did the Marches have vanilla and pecans? No. But they didn't have blogs, either.
Marilyn Naron is a chef, daughter, mother, writer, wife and entrepreneur, best suited for just plain handing out delicious things. And repeating all the stories that go with them. Her recipes can be found on her blog Simmer Till Done.