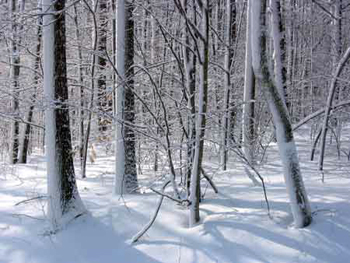 Okay, I'll try anything once and make the best of it if need be, but winter camping in near zero temperatures? I prepared a favorite dinner of braised rabbit with prunes, an undressed endive salad with the vinaigrette on the side and ramekins of chocolate mousse for our dream overnight camping in the backwoods of Northern Maine. We decided on a trail to cross country ski in on with my three dogs, nothing too challenging as we had lots of gear to transport on a toboggan plus it gets dark very early at this time of year AND it was our first test at "making camp" at rather cold temperatures.
Five miles in we found the perfect spot beside a icy, running stream to pitch our four-season tent, made a fire and enjoyed the pure silence of being in the Maine woods for the whole night. Everything was perfect, the tent went up easily without referring to the directions more than a couple of times, the sleeping bags were unrolled, the cushions to insulate us from the frozen ground were in place, we collected firewood from downed trees with a small saw as the sun started setting early like it does in the winter months.
Things were lovely and I kept questioning why we hadn't done this before, why had we missed this extraordinary chance to be intimately part of where we lived. The stream was loudly flowing with the most beautiful free form ice creations, the hemlock branches covered with snow as light as feathers, the dogs were having a grand time exploring all the new scents, and a beautiful lavender colored sunset. We lit a small campfire, found some pieces of wood to sit on to keep our clothes dry and retrieved the pot of braised rabbit from the sled to heat up.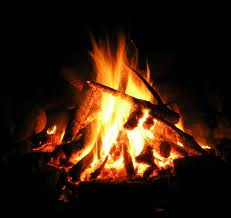 To my surprise it was a rock solid cube, I expected it to be cold but not frozen solid, it would take hours to heat up over our single burner stove – if we didn't run out of fuel first. The small campfire wasn't much help as it was made with frozen firewood with very little BTU's and as it heated up water dripped out. My vision of a perfect dinner to warm our bones after our long ski was fading quickly like the daylight. The pan was too large for the small burner so I had to keep turning the bowl so it didn't burn and at no point did it have an enticing aroma. I was struck suddenly with an intense hunger, I wanted to eat what was looking very impossible.
By this time it was pitch dark, the air temperature was hovering at zero and the wind was starting to blow so we extinguished the barely burning fire and headed into our small winter tent – the two of us, the single gas burner with the Lapin aux Pruneaux still rock solid balancing on top, 3 large Collies, a battery operated radio, a small lantern and the rest of the icy food. After at least and hour of stirring and twirling the stew we started eating pieces that were no longer frozen just cold as we listened to public radio by the light of the latern. Not one of my dogs was interested in what we were eating for dinner. They were probably wondering when we were going home.
The icy salad was turned into a warm vegetable once it partially thawed, the chocolate mousse survived the best from freezing, it just took a bit more work to eat in its ice cream like state. I don't like eating ice cream in the winter and I don't like eating ice cream outside as the mercury is steadily dropping to zero degrees. It isn't smart to use valuable energy eating something that is dropping your core temperature not to mention dangerous. Frost had been collecting on the roof of our tent and now was turning to ice which started drooping into icicles. The radio battery got weaker and weaker, the evening grew longer and less exciting and then we were just plain cold with no place to go safely in the dark.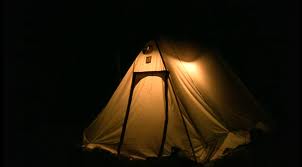 I wrapped up each dog in their own sleeping bag and and we retired for the evening. It was only 7:30 and we were in BED! I rationalized that if I crawled into my sleeping bag with all my clothes on I'd survive this and suddenly it would be morning. When the radio batteries finally failed we were all fast asleep in our subzero sleeping bags. Then it started. I heard roaring engines in the distance and it was heading towards us. How could that be? There were no roads on our map and certainly nothing near the stream but still the sound grew closer and louder. We pulled back the tent's flap and then we saw headlights, many headlights and they were heading towards us.
By this time the dogs were barking and pulling themselves out of their sleeping bags, there was pure havoc in our tiny tent. Our peaceful spot wasn't so peaceful anymore and we were nearly frozen to death. As the lights came closer we realized that it was a group of snowmobiles and we weren't sure if they were on our side of the stream and if we should jump out of our tent so we wouldn't be run over. Well, out we popped only to see all 18 snowmobiles pass 12 feet from our camp on the other side of the stream. We were camped beside one of the most busy ITS trails in Maine!
These are a groomed trail system that dissect the Maine woods and they are maintained like super highways that come to life after dark. Who would have expected that and why didn't our "best cross country ski trails" map not include that information? That was just the beginning of the roaring sleds, it continued into the wee hours with the dogs barking as soon as they heard the sounds of engines in the distance and continuing until they all had past and could be heard no longer. The hours passed slowly, hoping for the first glimmer of daylight. I could barely opened my eyes, they were nearly frozen, I didn't know to cover my face, silly me. It was at last time to leave our idyllic camp site by the bubbling stream in the middle of nowhere and head to our warm home and I could not ski fast enough! Was that night just a bad dream caused by hypothermia and ice cold food or did it really happen?
LAPIN AUX PRUNEAUX
1 3lb. rabbit,cut up into serving size pieces
1/2 lb. prunes, i like french agen prunes the best
1 cup chopped onions
3 slices of bacon, diced
3 chopped shallots
2 carrots, peeled and chopped
1 stalk celery, chopped
1/4 olive oil
3 sprigs of thyme
1/4 cup chopped parsley
1 bottle of hardy red wine, i prefer an assertive bordeaux
3 tablespoons flour
Salt and pepper to taste
In a large heavy pot render the bacon over low heat until the bacon becomes translucent. Turn the heat up to medium and add the chopped onions, shallots, carrots and celery next. Stir frequently until they are cooked but not browned. Remove from the pot.
Add 1/4 of oil to the pot and when it is hot add the rabbit pieces, sprinkle with flour and brown the meat on all sides. Add the onions, shallot, carrots and celery and half the prunes back into the pot. Top with the parsley and thyme. Pour the wine over the mixture making sure that it just covers the rabbit. Cover the pot and place in a 325°F oven for an hour to an hour and a half. It should just simmer merrily but not boil.
Remove the rabbit from the braising liquid and keep warm. Reduce the sauce by 1/2 and add the rest of the prunes to the mixture. Let simmer and then add the rabbit back in, combining well. Your sauce should be a beautiful mahogany color and have a nice thick consistency. Serve with buttered wide noodles or gnocchi if you are not camping.....
Brenda Athanus runs a small gourmet food shop in Belgrade Lakes, Maine with her sister Tanya called the Green Spot.
The Green Spot
This email address is being protected from spambots. You need JavaScript enabled to view it.This e-mail address is being protected from spam bots, you need JavaScript enabled to view it This e-mail address is being protected from spam bots, you need JavaScript enabled to view it
207.441.9327