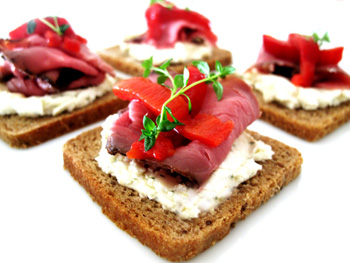 This is one of the simplest recipes but always a crowd pleaser. Everything can be picked up at the grocery store – unless you're in the mood to roast your own peppers – and assembled quickly at home. The recipe can easily be increased to make as many servings as your gathering requires. Trader Joes makes a great Fire Roasted Red Bell Pepper if you happen to have one nearby.
Rare Roast Beef with Boursin and Red Bell Pepper Appetizers
Makes 12 pieces
12 slices dark pumpernickel bread or rye cocktail bread
1/2 cup Boursin Garlic & Fine Herbs cheese, at room temperature
6 thinly sliced pieces deli rare roast beef, cut in half
1/2 cup jarred roasted red peppers, cut into 1/4-inch wide strips
3 tablespoons chopped fresh thyme or dill
Fresh ground black pepper
1. Spread each piece of bread with 2 teaspoons of Boursin cheese and place piece roast beef. Top with 3 pepper strips and sprinkle with thyme or dill and a few grinds of black pepper. Refrigerate for up to 3 hours and bring to room temperature before serving.
James Moore has been a cooking enthusiast since childhood and started blogging as a way to share favorite recipes with friends and family. His site, Cook Like James has grown to include restaurants, cookbooks, wines, and favorite places.