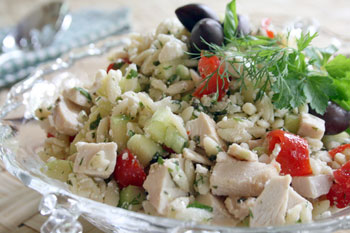 When I lived in Fargo, I used to love going to Santa Lucia restaurant for a big Greek salad. It was a plate filled generously with fresh lettuce, tomatoes, cucumbers, feta and kalamata olives. The colorful mix was dressed with a nicely seasoned vinaigrette. I could easily make that salad a meal. It's been several years since I've had an opportunity to dine at Sanat Lucia, but I've often thought of that delicious salad.
The other day I had cooked chicken in the refrigerator. It was meat remaining from my experiment grill-roasting chicken, one propped on a can of beer, another placed right on the grill rack over a shallow pan of water and lemon juice. I was interested to know how the flavor and juiciness would differ.
My pick is the chicken placed over a pan of liquid and cooked over indirect heat. It really is the juiciest and most flavorful chicken I've ever eaten. The rub of spices and olive oil on the skin and under the skin of the chicken certainly helps it along. My husband says it's just as good as the Greek-style chicken he would sometimes have on our visits to Omega restaurant in Niles, IL — moist and juicy with a hint of lemon.
With chunks of chicken and snips of fresh herbs from my garden, I created a salad with flavors reminiscent of that classic Greek salad I used to eat at Santa Lucia. It's a healthful combination of vegetables and herbs, doused with extra-virgin olive oil and feta cheese. We made it a meal at our house. I know I'll be making it meatless this summer to tote to picnics.
You won't find any bits of olives in my salad in the photo above. I have an olive-phobic husband. I add whole, pitted kalamata olives to my plate only. What's a Greek salad without the salty kalamatas?
Greek-Style Orzo Salad with Chicken is not Santa Lucia-style. This salad has no lettuce. But the flavors? They're Greek to me!
Greek-Style Orzo Salad with Chicken
3/4 cup uncooked orzo
3 tablespoons extra-virgin olive oil
3 tablespoons freshly squeezed lemon juice
1 1/2 tablespoons red wine vinegar
2 chubby garlic cloves, minced
1/2 teaspoon salt
1/4 teaspoon freshly ground black pepper
2 tablespoons chopped flat leaf parsley
2 tablespoons chopped fresh oregano leaves
2 tablespoons chopped fresh basil leaves
1 tablespoon chopped fresh dill
1/3 cup thinly sliced green onions
1 cucumber, peeled, seeded, quartered lengthwise and sliced
1 cup grape tomatoes, quartered
2 cups chopped cooked chicken
1 (4-ounce) package crumbled feta cheese
Kalamata olives, pits removed, chopped
Cook orzo according to package directions.
While orzo is cooking, make dressing by combining olive oil, lemon juice, red wine vinegar, garlic, salt and pepper, whisking until well blended. Set aside.
Drain orzo. Rinse with cold water. Drain well. Transfer orzo to large mixing bowl. Pour some of the dressing over the orzo and toss to coat. Add chopped fresh herbs, green onions, cucumbers, tomatoes and toss. Add chicken and feta cheese and gently mix into the orzo mixture. Cover and refrigerate until serving time. Sprinkle with chopped olives.
At serving time, allow salad to warm up a bit at room temperature. Stir in more of the reserved dressing if necessary. Makes 4 to 6 servings.
Store remaining dressing in refrigerator.
One pound of cooked shrimp is a nice change from chicken.
Dried herbs can be used, but the flavor won't be the same in this orzo salad. A rule of thumb when replacing fresh herbs with dried is 1 teaspoon dried to equal 1 tablespoon of fresh.
Sue Doeden is a popular cooking instructor, food writer and integrative nutrition health coach. She is the host of Good Food, Good Life 365 on Lakeland Public Television. Her own hives full of hardworking bees and her love of honey led to the creation of her recently published cookbook, Homemade with Honey.