As the clams start heating up they will let go of all this beautiful, pure clam juice, undiluted and intense. Now, we're cooking! Let the clams cool and remove them from the shells, peeling off the black sheath from the neck. Roughly chop the clams and put them aside. Pour off the collected clam juice being careful to stop before you get to the debris at the bottom of the pot. Set that aside, as well...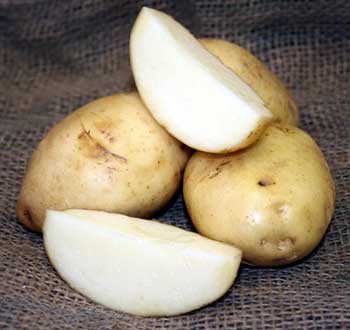 I prefer salt pork, but I generally use bacon because I have more options to use it up than having a chunk of salt pork getting lost in the back of my refrigerator. Take a 1/4 pound of bacon and dice it finely-1/4 inch. You could use more bacon but it's up to you and I'm not judging. Over medium heat slowly render the bacon in a good size pot until it has started to crisp up. Add 2 cups of chopped onion, turn the heat down and just let them enjoy each others company, until translucent and fragrant.
Next, the thickener, the ONLY thickener-I'm not flexible on this point! Potatoes, yup, 3 or 4 cups of cubed potatoes. I like to use fresh dug Kennebec's (a variety of potato, named after the county that I live in-but here everyone has a potato named after where they live and the lucky ones have a potato named after them, but that takes a few hundred years of living here) because they taste extraordinary and there's enough starch to thicken the chowder perfectly. However, in the winter I'll use bakers if it saves me from having to go to town.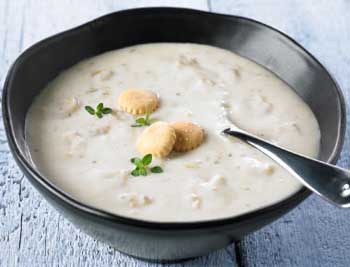 Cover the rendered bacon, onions and potatoes with the clam broth and let it simmer until the potatoes are cooked, about 12 or 15 minutes. Add the chopped clams, 2 cups of good cream (heavy) and 2 cups of milk. I let this barely simmer for 5 minutes and turn it off, it needs to sit so the flavors meld. If you have time, it's best to refrigerator it overnight. On the coast of Maine that is called aging it. You decide.
When it is serving time reheat on low, repeat, low! Be on the lookout for the beginnings of steam rising from surface and remove from the heat immediately, taste for salt and pepper. Drop a knob of homemade butter into the middle of each bowl, serve with common crackers and enjoy!
Brenda Athanus runs a small gourmet food shop in Belgrade Lakes, Maine with her sister Tanya called the Green Spot.
The Green Spot
This email address is being protected from spambots. You need JavaScript enabled to view it.
207.441.9327